Take Proactive Action Or Resignation In Protest—Makinde Tells President Jonathan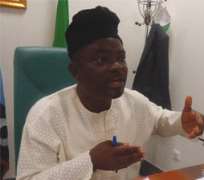 Today I join other well-meaning Nigerians to strongly condemn the unspeakable violence and acts of terror desperately /wickedly committed by Boko Haram in northern Nigeria against defenseless and vulnerable groups; this obviously has no place in our world as a country.
Truly, there may be challenges on the part of our intelligence and security forces by way of porous border, large and uncharted expanse of land, and an extremely difficult terrain. But I still find it unacceptable this level of mindless violence and the response of our security forces. They should also tell us if they have run out of ideas to combat this restiveness and win the war once and for all.
The kidnap of over 200 innocent female students whose whereabouts are yet to be known calls for worry. To this end, I urge President Goodluck Ebele Jonathan to redouble his effort and take proactive action or resignation in protest, or better still seek the support of international communities especially United States of America.
If this senseless kidnapping and mindless killings of such magnitude can happen in a state under state-of-emergency then it requires collective responsibilities and shouldn't be handled with kid gloves. Nigeria is in a state of war and we should stop to pretend as if all is well. We need to sustain this protest and the pressure on political and military authorities to do everything in their power to ensure these girls are freed and to also restore sustainable peace and tranquility in the country. God bless Nigeria!
Hon. Rotimi Makinde,
Deputy Chairman, House Committee on Human Rights
Representing Ife Federal Constituency in House of Reps.