POET AS A MURDERER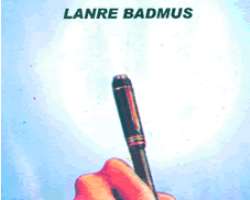 Poet as a murderer
By FAITH HASSAN
Thursday, March 18, 2010
Is it possible to ever commit murder in such a lovely way that the blood stains could be described as beautiful? This is what a poet has done successfully in his new collection of poems entitled: Gorgeous Murder.
In endearing rhythmical words that flow with beautiful descriptions from nature laced with criticism of Africa, Lanre Badmus' poems claim to 'murder' the pens with which the poems were written.
The 62-page collection is divided into six categories: nature, varieties, romance, law school diary, politics and life. All these point to the poetic personal life, times and experience. The language used in the poems express feelings that range from being brazen, melancholic, excited, angry, hopeless, mischievous (humour), loving, criticizing and bitingly blunt. In spite of giving his feelings free reins without pulling back, the poet persona makes use of rhyme, rhythm and allusion in passing his messages across to readers.
However, philosophy and satire are embedded within the beautiful words along with expressions of hopeless sadness laden with wishes in all the poems including the romantic ones.
The poet uses harsh and subtle words to describe the contemporary Nigerian society which he lives, noting that it is full of corruption and with criminal tendencies. This is especially evidenced in the poem My Naughty Nation in which he observes: 'My naughty nation's democracy is beautifully dressed in an ugly garment of shame.
And it is being laughed at like a clown clad in rags My aging nation's democracy is an alleged criminal with legions of charges- corruption, murder, theft… the list longs for the sky. But still, I'll live to love my naughty nation. And I'll caress her tenderly like darkness romances the night.
While describing his crush on a pretty female lecturer in Law School, the poet humorously laments that they would never be together by saying that: 'Thus I have accepted my fate like a fish romances a bait… Our being together is having Christmas in October.'
The words in each poem flow fluidly into the next line even while the poet makes use of unrelated words to give meaningful expressions. Nature, Africa and Nigeria are caressed with words as if they are the poet's lovers but he still manages to use the images in his words to make Africa and Nigeria look harsh, poor, pitiful, diseased and corrupt.
The anthology of poems show how a person can creatively use words to create humour, induce love and ridicule human beings or entities if he allows his imagination and writing talent to hold sway.
Though there is no restraint in contemporary poetry and the poet can even make his own wordsmith, there should still be no error in the use of language. In spite of the poems' beauty, smoothness and rhythm, some grammatical or typographical errors are still evident in the collection. For instance, expressions like 'A thought I now nature (nurture)' on page 11; 'Life isnt (isn't) so good' on page 10; 'Black blood stains every were (where)' on page 2 are errors that might have gone unnoticed by the editor/publisher.
However, the poems in Gorgeous Murder are ones that poetry lovers would like to read over and over again due to its simple yet condensed language. The poet's background as a young male law student is also effectively put into play in the collection. This will endear itself to young and old lawyers and even any member of the public from any profession due to the poems' approach to different societal values, beliefs, adolescence and philosophy.