Public Finance Committee Gets Insight Into The Management Of FG Fiscal Operations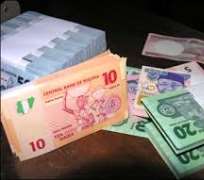 The Committee on Public Finance and Revenue, at the on-going National Conference, on Friday met with the Director General Budget Office, Dr Bright Okogwu, to get insights into the management of Federal Government fiscal operations and also know what the issues and challenges are.
Okogwu informed the delegates that the office has been re-orienting the mind-sets of ministries, departments and agencies on budgeting process.
He said the realignment of the budget carried out in 2012 made it possible to increase capital expenditure by 29.5% while that of 2013 increased it to 37.5%
The director general went ahead to state that the increase in wages as a result of incessant strikes by workers had also increased the nation's salary bill from N857 billion in 2009 to N1.7 trillion in 2011.
According to him, the use of benchmark price in budgeting was to save money for unforeseen expenditure.
For instance, he said that the plummeting of oil price to about $10 per barrel in 2006 had caused economic crises in the country because the country did not save money for such moments during the oil boom of the 70s.
For an economy of the size of Nigeria, he said the country should have at least $50 billion in its foreign reserve. He then advocated an independent panel of experts that would determine the benchmark for oil as done in Chile.
Okogwu said the Value Added Tax (VAT) which is currently put at 5% should be increased to 10%.
He disclosed that money accruing from the partial removal of subsidy was N462 billion and appealed to the committee to recommend speedy passage of the Petroleum Industry Bill (PIB).
Meanwhile delegates from Cross River State have appealed for support to their demand for the creation of another state from Cross River State.
In a statement signed by eight of the ten delegates, and addressed to the Chairman of the Committee on Political Restructuring and Forms of Government, they noted that the National Conference represents an opportunity for all sections of Nigeria to get justice.
They pointed out that a memorandum for the creation of Ogoja State was submitted to the National Assembly in February 2009. That memorandum was also submitted to the Committee.
According to them, "apart from Ogoja and Ijebu, all the other 22 provinces (and their headquarters) have become States and Capitals".

Signed

AKPANDEM JAMES
ASSISTANT SECRETARY, MEDIA AND COMMUNICATIONS
Get up-to-the-minute updates and other gist about Confab proceedings on our social media platforms:
Facebook Page: https://www.facebook.com/confab2014
Google+: https://plus.google.com/b/105505034949556024125/105505034949556024125
For live tweets: @NGConfab2014
YouTube Channel: https://www.youtube/channel/UCR_t3veCCWJB5CksmEVSwlw