SUSWAM FIRES COMMISSIONER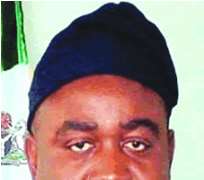 Suswam fires commissioner
From ROSE EJEMBI, Makurdi.
Thursday, March 18, 2010
Benue State Governor, Gabriel Suswam, on Tuesday, relieved his Commissioner for Information and Culture, Bem Melladu, of his appointment in a bid to restructure his cabinet.
In a statement by the Secretary to the State Government (SSG), Dr. Audu Achigili, the sacked commissioner has also been directed to hand over with immediate effect to the permanent secretary of the ministry.
Also speaking with newsmen at the Government House Press Center, the SSG explained that the governor had the right to sack any commissioner at any time if such commissioner is found to be nursing a political ambition.
'No person can hold government to ransom. You cannot divert government attention. The machinery of government must go ahead,' he said.
It would be recalled that Melladu was one of the commissioners who were redeployed to other ministries during a recent cabinet reshuffle in the state. He was deployed from the ministry of Commerce and Industry to Information and Culture.
No reason was given for the commissioner's sack but Daily Sun gathered that he may have been relieved of his job because of his alleged loyalty to the former governor of the State, Senator George Akume.
Another rumour had it that his sack might not be unconnected with his intention to contest the House of Representatives seat in Gboko/Tarka Federal Constituency.
Efforts to reach the sacked commissioner for comment failed as his mobile phone was switched off.
In a related development, Governor Gabriel Suswam has approved the suspension of 12 local government chairmen who were recently recommended for suspension by the state House of Assembly over alleged misappropriation of excess crude funds accruing to their councils.
While handing down the punishment, the governor slammed two months suspension on council chairmen of Ogbadibo, Gwer and Gwer West who were recommended for six months suspension by the state House of Assembly.
Also, the nine other chairmen that were recommended for three months suspension are now to proceed on one month suspension. However, no mention was made as to whether or not the affected chairmen are to refund the monies they allegedly embezzled.