WARRI BOMB BLASTS: EX-MILITANTS FOR QUESTIONING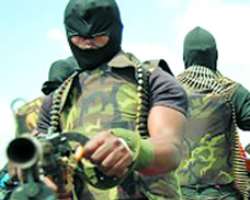 Warri bomb blasts: Ex-militants for questioning
From EMMANUEL OGOIGBE, Warri
Thursday, March 18, 2010
Ex-warlords may be invited for questioning by the Delta State Police Command, Asaba over their roles in Monday's bombing of Government House annex in Warri.
Daily Sun reliably gathered that those to be invited are ex-militants who were members of the Movement for the Emancipation of the Niger Delta (MEND),
Although MEND claimed responsibility for the attack in which three died, it was learnt that the dragnet of the security agencies may be extended to all the former militants who allegedly refused to turn up for the conference.
Their invitation, it was learnt borders on why they did not show up for the talks aimed at bringing lasting peace to the volatile Niger Delta region.
It was gathered that security chiefs in the state were working on the theory that MEND's claims notwithstanding, the ex-militants who ignored the invitation to the conference did so because they wanted to sabotage it.
Sources said the names of the surrendered militant warlords were being compiled by security agents with a view to finding out why they did not attend the event and their role in the bomb attack.
But one of the former aides to Uduaghan, Chief Michael Johnny, who had served in the State Security Committee, blamed the bomb attack on unfair treatment of the impoverished region.
He, however, said those who embarked on the attack at an event that was supposed to fashion out a resolution to the region's problems were cowards.
Speaking at the NUJ Press Centre in Warri, Johnny said: 'If you don't have guns in the Niger Delta or breed a militant group, Shell, Chevron and other multinationals would not give you any contract.'
He alleged that the 'cabal' in the Niger Delta region that was into gunrunning orchestrated the bomb attack to further foster their family business, adding that their leaders from Ijaw ethnic extraction including Tompolo were misleading the people and had successfully destroyed over 35, 000 Ijaw youths in the last Gbaramatu crisis.
According to him, if Tompolo and his cohort had embraced the amnesty offered by the Federal Government, the invasion of the Okerenkoko and other Gbaramatu communities would not have taken place.
He alleged that Tompolo was being manipulated to foster the ambition of some politicians in the Niger Delta against the aspirations of the people of the region.
He said he was not the only one dissatisfied with Tompolo's 'antics' as many who lost their loved ones in the Gbaramatu and other crises have not gotten any form of compensation.