Paramount Ruler Of Eket, Chief Oduonyi, Passes On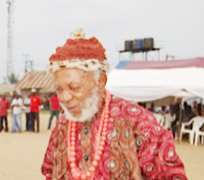 The Paramount Ruler of Eket, and Clan Head of Ekid Afaha, His Royal Majesty, Edidem Nathaniel J. Oduonyi is dead. A family source who preferred anonymity said yesterday.
Edidem Oduonyi, the source said, died early April in an undisclosed hospital in Eket after he suffered a major stroke and brain aneurysm.
"I am categorically confirming to you that His Royal Majesty, Edidem Nathaniel Oduonyi had passed away." Said the source.
On whether Chief Oduonyi was laid to rest according to traditional rite or not, the source persistently decline to make a categorical statement.
"It's not my place to tell you that. You can only hear that from the council of chiefs. I don't want get into that."
Speculations are common that the Eket monarch was already laid to rest according to traditional rites.
Chief Oduonyi ascended the throne as a paramount ruler of Eket in 2011 after the demise of Edidem Timkingiko Papaudo Enodien who was the former Eket traditional helmsman.
Meanwhile, consultation has already begun for the selection of the new Paramount Ruler of Eket. So far, two contenders have emerged for the highest traditional stool.
The Clan Head of Idua Ekid , Chief Etim Charles D Abia and Chief Sunday Otu Assam-Udo, the Clan of Ekid Offiong, are already earmarked by the core leaders of Eket Council of Chiefs, where one of them will finally emerged through an election. But speculations are already rife that Chief E. C. D Abia would be the likely winner giving that he is the most senior clan head alive in Eket Local Government, Akwa Ibom State.