INEC Debunks Allegations Of Double Registration Against Governor Obiano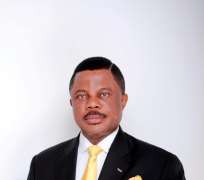 The Independent National Electoral Commission (INEC) has debunked allegations of double registration against the Executive Governor of Anambra State Chief Willie Obiano and reaffirmed that he is the duly elected Governor of Anambra State in a free and fair elections held in November 2013.
INEC denounced the allegations through its lead Counsel, Chief Adegboyega Awomolo, SAN, who said in the wake of its defense that there is no substance to the claims in the allegation by petitioners at the Anambra State Governorship Election Tribunal, Awka.
Chief Awomolo, SAN told the Tribunal that the notion of double registration being canvassed by the Petitioners against Governor Obiano is not tenable since Chief Obiano duly transferred his voter's card from Lagos to Anambra State before the elections. According to Awomolo, SAN, 'INEC is the only agency that can determine how many times anyone registered, and Chief Obiano voted in his ward during the elections.' To buttress his position, the Counsel to the electoral umpire tendered letter from Chief Obiano requesting the transfer of his name in the Voters Register from Lagos to his Ward in Aguleri, Anambra State where he voted.
In the same vein, Dr Onyechi Ikpeazu, SAN, Counsel to the Governor of Anambra State, Chief Willie Obiano also dismissed the claims by Dr Chike Obidigbo who brought-up the allegation in his evidence-in-chief before the Tribunal stressing that the transfer of Voters registration as done by Chief Obiano is permitted by law and asked the petitioner to produce evidence of a Judgment where the current Obiano was found liable for the alleged double registration.
Also in a deposition before the Tribunal, lead Counsel for INEC, lent credence to the Commission's return of Chief Willie Obiano as duly elected Governor of Anambra State in a free and fair elections held in November 2013 by tendering three sets of documents. The documents include; Local Government Results, State Result sheets, and the Declaration of Candidates Form (Form EC 8C, Form EC 8D and Form EC8E).
Thereafter the Counsel announced the closure of INEC's case stating that the Commission had no further need to present witnesses. According to Awomolo, SAN, 'we shall rely on the documents we have tendered and the information obtained during the cross-examination of the witnesses called by the petitioners for our defense.'
The Candidate of All Progressives Congress (APC) Senator Chris Ngige who came third in the November elections behind the PDP candidate Chief Tony Nwoye had on December 20, 2013 approached the Anambra State Election Petition Tribunal headed by Justice Ishaq Bello petition Number EPT/AN/GOV/02/2013 seeking the nullification of the election and return of Chief Obiano as Governor. However, the petitioner's having closed their cases alongside Dr Obidigbo who claim he is the APGA candidate appear to be concentrating on pursuit of allegations of double registration.

James Eze
SSA, Media
08033090972