Actress, Angela Alleged Rape Case, Prosper Reacts: She Moved Into My House. We were lovers. Please quote me.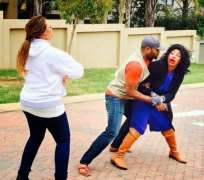 Nollywood actress Angela Okorie, might have to try to convince her fans of her innocence about her alleged theft incident that would have died off without the public getting to know, which has now become an issue of mockery.
The married Nollywood actress had recently attacked fellow Nollywood actor Prince Ekeh, whom she accused of not being appreciative of their travel to South Africa, for a movie shoot which has now taken a different dimension.
Not too long, Prince Ekeh, was left with no choice but come out to state his own side to the whole story where he even said he saw Angela kissing the guy they met at South Africa. Well, the war is not yet over as the guy at the center of the argument, Prosper, has come out to state his own side to the story;
"That I tried to rape her or was begging her for sex is laughable. I knew she was coming to South Africa. I promised to help her when she got here. She and Prince Eke arrived on Monday morning, I saw them in the evening and Prince was complaining that he didn't like where he was staying."
"So Angela and I agreed that she would move out of the guest house and move in with me so Prince Eke could move into the guest house. She left the place and moved in with me on Wednesday. She said she moved in with her friend named NK. There's no such person. I have a roommate, a young girl that I am helping, who is like a family friend. She didn't know Angela until she moved in with me. She lied about moving into a friend's house. She moved into my house. We were lovers. Please quote me. When Prince Eke confronted me and said I was messing around with a married woman, I was quite surprised because Angela told me she was estranged from her husband. After I heard she was married, I distanced myself from her and we began to have issues in the house. She started to give me attitude and also Prince Eke because he had told me she was married."
"About the money, after we finished shooting that Saturday, I took Prince Eke to a Barber's salon to get a haircut. Angela said she wanted to go home. Later she called me to say she was leaving my house. We had quarreled that morning but she didn't tell me she would be leaving. She was supposed to stay at mine until she leaves South Africa."
"When I got home I asked my roommate if she'd seen Angela and she said Angela had left the house in a hurry with her things that someone had been waiting for her outside the house. I checked the cameras in the premises and saw that she'd left in a hurry. I went to my room and searched for my money and saw it was gone. I called her for several hours but she didn't pick, so I went to the police. We were able to trace her to Hilton hotel. She and the guy with her were both arrested and it was the guy that signed the affidavit. Why would I set her up? I am a rap artist and producer in South Africa. My stage name is P-Skrilla."
Hmmm, is the battle about to end or just starting, because we are yet to get a response from Angela's husband? Well, only time will tell.