2015: Gov. T.A Orji And Blank Worry About Ukwa/Ngwa People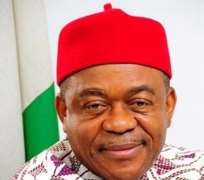 Gov. T.A Orji of Abia State is just worried about who becomes governor and who does not become governor of the state in 2015, but this is in vein. He is expressing blank worry whereas he could not empty the state of its sorrow that ranges from environmental degradation to poor and no infrastructure, from poor health facilities to unpaid workers salaries. Just name them.
Perhaps, he was worried because he would not want the next governor to fix the state that had proved not fixable under him, a situation the governor had shown that he could not do anything about it, due to his immature nature to governance and glaring emptiness of leadership.
In Information Nigeria online, April 6, 2014, with the headline, "2015: Orji Worried By Long List Of Abia Governorship Aspirants" the governor was said to have expressed anxiety over what he said was the long list of governorship aspirants in the state for the 2015 elections but, especially, he was worried about the list of governorship aspirants from the Ukwa/Ngwa area.
This area was said to have been appointed to produce the next governor of the state owing to the zoning formula. The governor was said to have made the disclosure about his worry in Umuahia at the Ngwa Patriots' Forum, where he was represented by his deputy, Emeka Ananaba, who hails from the area.
Why the governor had expressed worry, according to him, that each of the nine local government areas in Ukwa/Ngwa area, had at least five aspirants vying for the post, was not befitting of a sound mind. The funniest side of the meeting was its theme: "Appreciating the man that will make history: Gov. Theodore Orji and Ngwa nation in 2015".
What many people did not know about Gov. Orji who had always boasted of loving the Peoples Democratic Party, PDP, so much and was always mouthing to deliver the whole of South-East for President Goodluck Jonathan should he contest in the 2015 elections was that he was indirectly working against the same PDP.
Hear the Gov. T. A Orji and shudder: "People always know the examination they would pass and the one they would fail", he said. The paper went further to quote him thus: according to him, the large number of the aspirants will only swell the purse of the Peoples Democratic Party, with the payment of a N10 million non-refundable fee by each aspirant.
Did you hear that! The governor due to he has lost the hope of Abia people and has made all and sundry in the state to choose their own happiness, hence majority of our people are made to be like the expression in "Synchrodestiny: Harnessing the Infinite Power of Coincidence to Create Miracles" by Deepak Chopra.
Chopra has says: According to Vedanta, there are only two symptoms of enlightenment, just two indications that a transformation is taking place within you toward a higher consciousness. The first symptom is that you stop worrying. Things don't bother you anymore. You become light-hearted and full of joy. The second symptom is that you encounter more and more meaningful coincidences in your life, more and more synchronicities. And this accelerates to the point where you actually experience the miraculous. (quoted by Carol Lynn Pearson in Consider the Butterfly).

The governor has also given our people such a hard puzzle to solve as contained in "Fahrenheit 45" by Ray Bradbury, which says: If you don't want a man unhappy politically, don't give him two sides to a question to worry him; give him one. Better yet, give him none. Let him forget there is such a thing as war. If the government is inefficient, top-heavy, and tax-mad, better it be all those than that people worry over it. Peace, Montag.
Bradbury continues: Give the people contests they win by remembering the words to more popular songs or the names of state capitals or how much corn Iowa grew last year. Cram them full of noncombustible data, chock them so damned full of 'facts' they feel stuffed, but absolutely 'brilliant' with information. Then they'll feel they're thinking, they'll get a sense of motion without moving. And they'll be happy, because facts of that sort don't change.
Gov. T.A Orji has made worry to grab the minds of our people in perpetuation. He is not producing our state to be the best in the comity of states in the country, but he is faster reproducing anxiety upon anxiety of who will be the next governor of the state. He does not want to dissolve the worry of the people by working and making sure that all mechanisms are put in place. There is no reassurance of Gov. T.A Orji that our state will be good under him again since his tenure as governor is fast ticking to end. The ugly precedence of Gov. T.A Orji in the state has made our hearts to stop beating before we will die.
Odimegwu Onwumere, a Poet/Writer, writes from Rivers State.
Tel: +2348032552855
Email: [email protected]
www.odimegwuonwumere.wordpress.com
Disclaimer:

"The views/contents expressed in this article are the sole responsibility of

Odimegwu Onwumere

and do not necessarily reflect those of The Nigerian Voice. The Nigerian Voice will not be responsible or liable for any inaccurate or incorrect statements contained in this article."
Articles by Odimegwu Onwumere