Between terrorism & genocide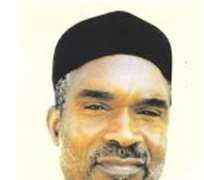 Penultimate week, we were amazed to hear a sitting governor make a statement that showed not just the height of irresponsible leadership, but also political rascality. I join others in condemning the statement.
What exactly was the statement? Governor Murtala Nyako of Adamawa State issued a controversial memo to the 19 northern states governors where he accused President Goodluck Jonathan and the federal government of carrying out genocide against the people of the north. We do not understand if he intended for it to be secret, but I doubt it as it appeared to be intended to heat up the polity.
For the record, genocide is defined as 'the deliberate and systematic extermination of a national, racial, political, or cultural group.' Terrorism on the other hand is defined as 'the use of violence and threats to intimidate or coerce, especially for political purposes.'
How in the world will he accuse a sitting President, who many believe has not even done enough, of genocide? As a retired military officer, Governor Nyako should see the distinction between how His Excellency, President Goodluck Jonathan, is carefully handling matter, in contrast to how former military Head of State and civilian President, Olusegun Obasanjo, handled the Zaki Biam and Odi matters. In January 2013, I wrote a piece titles Obasanjo vs. Jonathan, where I did a comparative analysis on their handling of terrorism. To quote from the piece, 'In Odi, there were alleged militants that had attacked soldiers. At that time, GEJ was Deputy Governor of Bayelsa State. To cut a long story short (as they say), OBJ ordered the annihilation of that village on November 20 1999 because the Governor did not produce the militants. Every building in the town, except a bank, an Anglican church and a health center, was razed to the ground. Of course, OBJ premised his actions on the fact that he was the Commander in Chief of the armed forces and could not just stand by and watch his soldiers be killed by civilians. Of course, he was also the President of the whole country, including civilians. As for the people of Zaki Biam in Benue State, soldiers killed over 100 civilians over alleged killing of peacekeeping soldiers that emanated from a simple dispute over siting of local government headquarters. Again, this was under Obasanjo civilian regime between 22 to 24 October 2001.'
President Jonathan has been pensively exercising his options while considering the human rights angle. A bomb could easily be dropped on Smbisia forest and all the insurgents eviscerated, but what about the civilian casualties? In my article referenced above, I posed the question, 'Should GEJ handle Boko Haram like OBJ handled Odi? I am not a Security Adviser to GEJ, but the complication may be that GEJ may need to annihilate several villages in at least 5 States (Borno, Bauchi, Kaduna, Kano, Niger) as Boko Haram terrorists have been linked to these States (and others). Also, it could be that since GEJ is not a former soldier, he is not familiar with the rash methods of the military. Or is it that as a brilliant academician, the President may be restrained by intellectual analysis paralysis that the military is not prone to utilize?'
Usually, it is the perpetrators of terrorism that are even accused of genocide as in the case of Rwanda. Not those countering terrorism. Only a blind and deaf man can accuse the President of genocide.
Governor had shown that he is incapable of leading his county and should probably be relieved of his position.
There is no doubt that his statements were politically motivated. The governor who has since joined former Vice President Atiku Abubakar in decamping to All Progressives Congress (APC0 has failed in his role as the chief security officer of his state. Boko Haram has been unchecked in Adamawa State, begging the question as to what he has been doing with the 'security votes.' APC should stop playing politics with the security situation in the country. It should be recalled that in March 2010, he was described as the 'messiah' of his people, but to date has failed to lead them neither to any promised land, nor save them from the onslaught of Boko Haram. He a direct beneficiary of western education that Boko Haram opposes, having attended both Mayo-Belwa Elementary School and Yola Middle School, besides his navy education and honorary digress.
While this is a non-partisan column, I want to quote part of the response from PDP. 'Alhaji Murtala Nyako went bunkers in his futile attempt to begin a civil war and variously called President Goodluck Jonathan 'Hitler', 'Evil-minded', 'bloody-minded' and many other gross adjectives that are obviously intended to incite the public to take up arms against the government of the Federal Republic of Nigeria. Governor Nyako in his misleading letter titled 'On-going Full Scale Genocide in Northern Nigeria', tried woefully to cloak his intentions, but due to the shallowness of his unfounded, irresponsible, criminal and unwarranted allegations against the government of President Goodluck Jonathan and a better focused PDP, he unveiled his real intentions and his cohorts: to ensure the escalation of violence through the instrumentality of the terrorist group, Boko Haram.'
As a former navy officer, a former military governor of Niger State, former chief of Navy staff in 1989 and second term civilian governor, Alhaji Nyako is supposed to know better. Even if his letter is sponsored, patriotism should have held sway.

*Akpodiete is an ordained reverend, author, Computer Scientist, Educator, Consultant, lawyer, Political Analyst & Social commentator. He has a Doctorate degree in Jurisprudence from the US. He has lectured Law, Ethics and Security & Intelligence Studies at the University level here in Nigeria and US. He also writes for a state daily newspaper & national monthly journal. He currently divides his time between Nigeria and USA where he runs an international capacity building firm. Contact him on 08138391661 or [email protected],
Disclaimer:

"The views/contents expressed in this article are the sole responsibility of

Prof. Alex O. Atawa Akpodiete, Esq.

and do not necessarily reflect those of The Nigerian Voice. The Nigerian Voice will not be responsible or liable for any inaccurate or incorrect statements contained in this article."
Articles by Prof. Alex O. Atawa Akpodiete, Esq.