Impose Full State Of Emergency, Sack Northern Governors, Legislators...They Knew Boko-Haram Members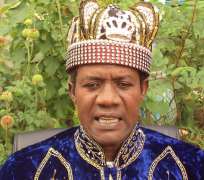 As insecurity paralyses Nigeria, a-social critics and Traditionalist, Prophet Dr. Ramas Okoye-Asuzu, has lampooned the government, religious and traditional rulers in the Northern part of the country over inability to curb Bokoharam insurgency among other ethno-religious upheaval shattering the zone as a hurricane fire.
Prophet Ramas who enjoined President Goodluck Jonathan to declare full state of emergency in the north, also implored him to sack the affected states Governors, Federal and States Legislators and their Local Government counterparts including the Emirs and other notable leaders of the devastated areas pending when peace returns.
Ramas who disclosed this today in an exclusive interview with www.okechukwuonuegbu.blogspot.com at his temple in Nri, Anaocha council area of Anambra state, posited that this will inspire others to beef-up security in their domain or lose their exalted offices, as opinion leaders are fully aware of the characters and characterizations of their subjects.
"Security of lives and properties is responsibility of all Nigerians especially these leaders who are constitutionally empowered to act as our Chief Security Officers in their domain. Therefore they are capable of unraveling bad eggs in their midst being fully grounded with the knowledge of their subjects (people) so as to bring them to book while liaising with the federal government to orientate and provide employment and other needful.
Any leader who cannot secure its citizenry is incapacitated and should resign from office willingly or face sack irrespective of political party or religious affiliations. Yes! I believe that this will serve as deterrent to others as well as ginger many to work rather than embezzling our funds for a return march (re-election) among other selfish ambitions. I hereby urge President Jonathan to declare total or complete state of emergency in affected areas", he said.
Emphasizing the needs for security cameras or gadgets to be mounted in all part of the country, Prophet Ramas explained that it will enhance surveillance and monitoring of suspicious movement, and enjoined the government to equip our borders, streets, roads and other strategic locations with security experts and sophisticated equipments so as to easily detect and sanction the brains behind the incessant bombings and extrajudicial killings of innocence Nigerians.
The hearer and Philanthropist who posited that Christianity and Islam were bane to Nigeria's social-economic development, advised leaders of the two religions to orientate and inculcate moral virtues to their followers as enshrined in their holy scriptures in order to re-awaken the spirit of love, peace and unity among Nigerians, because according to him, God does not tolerate shading of bloods as a ticket to heaven as claimed to be the meaning of Bokoharam Islamic fundamentalist.
On the recent Immigration's recruitment exercise marred with stampede, Dr. Asuzu recommended that similar aptitude test or federal government employment should be well planned and possibly channeled through council areas to avert future mayhem.
However, the Prophet doubted that the ongoing national conference will yield positive result, stressing that the delegates are coat of many colours, but Nigerians need wise and creative minds to table ways of moving her forward. "This confab may amount to oputa panels because there are no human right activists, youths, clergy, prophets or imams of impeccable characters or track records. The delegates are same corrupt elements: old people or retarded brains who impacted not a soul. Our country needs best brains and young people to canvass for her peace, unity and progress", he maintained, insisting that President Jonathan must come down to his temple before he could proffer perfect solutions to end insecurity in the country.
Similarly, he enumerated discussable plans to include job creation, youth's empowerment and 35% inclusion in the governance and decision making in the country, modalities to be adopted in straightening the country's unity and free education.
2014-04-25 165557