Pan Atlantic University, IABC To Partner For New Global Communication Certification Programme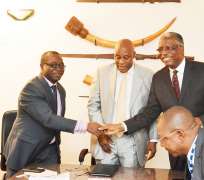 The Pan Atlantic University through its School of Media and Communication (SMC) is to partner with the International Association of Business Communicators (IABC) to deliver a global certification course in communication. The partnership would involve the provision of facilitations and training.
Dean of the SMC Prof Emevwo Biakolo, stated this in Lagos when the Executive and members of IABC Nigerian chapter visited the School to welcome the appointment of Richard Ikiebe, a lecturer in SMC, as a member of the Global Communication Certification Council, representing Sub-Saharan Africa.
Prof Biakolo said that the appointment of Ikiebe to the global body was an honour for Nigeria and for the School, and that a partnership with IABC would enable Nigeria and other countries in sub- Saharan Africa access the latest global knowledge in communication.
He noted that IABC is a global institution whose aspiration is similar to PAU's in terms of promotion of communication excellence worldwide adding that the collaboration would add further value to SMC's executive and professional programmes.
The Global Communication Certification Council would hold its inaugural meeting in April and focus on governance processes, background briefings and our first level of certification. It would be the governing board for the new IABC certification programme.
The Global Communication Certification programme would be open to all communication professionals, non-IABC members inclusive, and provide a common and consistent platform for assessment. Its work draws from IABC's research defining the global principles for the profession, including a career purpose and six core principles of ethics, strategy, analysis, context, engagement and consistency.
Research by IABC had also defined four career paths for communication professionals as foundation, generalist/specialist, strategic advisor and business leader. Core competencies underpin each of these levels.
IABC experts the Global Certification programme would commence in 2015 and offer certification at two levels aligned with the generalist/specialist and the strategic advisor level.
Chido Nwakanma, president of IABC Nigeria said that the appointment of Ikiebe to the Global Council is a plus for Nigeria and sub-Saharan Africa and presents an opportunity for better partnership between the association and the academia. He pointed out that the new global scheme would help market Nigerian communication professionals internationally.
Richard Ikiebe on his part said he was excited about the opportunity to serve a global fraternity of communication professionals. He promised that he would use the opportunity to contribute African quota to the growth of the global knowledge base of the communication profession especially in the area of properly integrating business and communication for better results.
According to him 'business is about communication; if it is not about communication, it is not about anything'.
2014-04-23 165843
2014-04-23 165905