Jonathan's Project Probe Panel Acting On A Script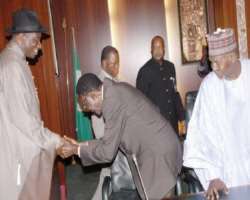 PHOTO: L-R: ACTING PRESIDENT GOODLUCK JONATHAN WITH CHAIRMAN PMC, NDDC, ISAAC JEMIDE AND PPAC CHAIRMAN IBRAHIM BUNU. ...AS FEAR GRIPS TARGETED MINISTRIES.
Abuja March 17, (THEWILL) - There are palpable fears in government circles that the Ibrahim Bunu-led Presidential Projects Assessment Committee (PPAC) which was inaugurated by the Acting President, Dr. Goodluck Ebele Jonathan early this month, may have been acting on a script and even written its report long before embarking on its work, THEWILL findings have revealed. The Probe Panel was given three months to submit its report.
THEWILL learnt Tuesday that the panel, which was set up by Jonathan to probe projects embarked upon by President Umaru Musa Yar'Adua, had reportedly leaked it to the media that it was going after only three major Ministries and Departments, namely Petroleum Resources and Agriculture and Water Resources as well as the Millennium Development Goals (MDG) projects.
The news report, which was widely circulated in the media and which was not denied by Presidency or the Bunu-led panel, is said to be causing concern in government circles as to what it was set up to achieve. 

"The committee was inaugurated on March 3. It wrote letters to selected ministries and agencies same day and told them to submit reports on their projects in one week. The day after inauguration, it was all over the media that the panel would go after four bodies," a top Presidency official who asked not to be named said. "These facts raise a lot of questions."
The committee members were said to have boasted last Friday that their report was ready, only waiting for the crossing of the i's and dotting of the t's. 

"The whole thing looks suspicious," an official of one of the Government Ministries under probe said. "If a panel was set up to probe projects, the focus on just four ministries or departments looks as if there is more to it than meets the eyes."
A member of the 19-man panel is said to be unhappy with the turn of events but reportedly told other members that they must not do the bidding of anybody.
The panel's major assignments include taking stock of all ongoing projects awarded by the Federal Government, assessing the level of funding of each project, evaluating professional competence of contractors handling the various projects and to examine a plan of action that is realistic, practical and achievable, among other terms. 

It was reported immediately after it was inaugurated that the committee would look into all existing Federal Government projects across the country with a view to ascertaining those that have been executed and those yet to be executed. 

However, only a few ministries and departments were picked for the probe, and it was widely reported that the probe of NNPC will be focusing on the over N600 billion subsidies on petroleum alleged to have been spent by the corporation on various spurious projects. 

The investigation of the Agriculture Ministry is expected to focus on the implementation and disbursement of the Federal Government's 40% credit facility, amounting to N9.52 bn, to the 10 selected eligible rice-processing companies, for the procurement, installation and setting up of model rice processing mills in Adamawa, Benue, Ekiti, Niger, Kano, Taraba, Kebbi, Enugu, Bayelsa, Ebonyi, Ogun and Anambra. 

The committee would also look into the utilization of the sum of N2.8bn, being 40 per cent Federal Government grant to six selected private sector organizations as investors to establish export handling, preservation and conditioning centres in six locations across the country would also be reviewed.
|
Article source