Power Sector Stakeholders Quiz PHEDC Managers On Outrageous Billing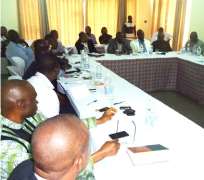 Recently at the power sector operational stakeholders meeting, the Managers of PHEDC Business Units in Akwa Ibom state were questioned on outrageous billing across the entire state.[/B
]Stakeholders pointed out that the issue of billing has become embarrassing. It's unknown whether the bills are authentic. Based on complains, the bills are outrageous. The power stakeholders therefore challenged the PHEDC Managers to ensure that electricity bills are reasonable or at least commensurate with customers consumption.
While offering an explanation, the Business Managers in Uyo, Eket and Ikot Ekpene Business Units, attributed the high electricity bills to factors such as debt incurred overtime, illegal connections, vandalization and estimated billing system.
According to the BMs, "about 60% of electricity consumed is not paid for while some debt that had existed overtime, needs to be paid for."
The BMs added that some customers that have meters in their houses have devised means of bypassing the meters to avoid paying bills. Therefore, to make-up for the loses, PHEDC relies on estimated billing.
The Senior Special Assistant to the Governor on Power, Dr. Victor Udo described the current situation as unacceptable. He said "the power assets were not bided for based on value but on reducing the technical and commercial loses in the sector"
He said "the idea of putting the burden of commercial losses on customers was unacceptable, a more effective billing and revenue collection process should be implemented."
Meanwhile, according to NERC's Multi Year Tariff Order (MYTO), electricity billing should be commensurate with consumption by the customer. NERC also stipulates that meters should be given freely as long as the costumer continues to pay electricity bills.
However, NERC permits customers who can afford to pay for meters to do so but PHEDC will refund them subsequently.
The implication is that, although there is the need for a more effective billing and revenue collection process, electricity consumers also need to be enlightened on metering and billing procedure to enable them make informed decisions.