Obiano Inaugurates Committee On Onitsha Market Fire Incident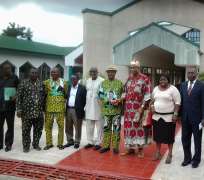 The Anambra State government has set up a seven (7) person Committee to probe the immediate and remote causes of the recent fire incident at the Ogboji section of Ose Okwodu market Onitsha.
Gov. Willie Obiano today inaugurated the investigation committee whose Chairman is Igwe Roland Odegbo, Abogu II of Nteje. The formation of the committee was previously announced in a Public Service Announcement on 14 April 2014 signed by the Secretary to the State Government, Mr Oseloka H. Obaze.
The Terms of Reference for the Committee includes inter alia, that it should determine the remote and immediate causes of the fire incident; determine what will be done to mitigate the fire incident; produce a rebuilding plan of the market; determine the role played by the Fire Service, the Police and other relevant agencies to stop the fire, and make any other recommendation to avert future occurrence.
Other members of the Committee are; Chief Chuma Eruchalu, Barrister C.I.Okoye, Mr Emma Ndubuisi, Superintendent of Police, Fasugba Temitope, Mrs Promise Ezeigwe, and Mrs Grace Okonkwo.
The Committee has until 2 May 2014 to submit its report to the government.
PHOTO 3
PHOTO 4