Build Barracks In Sambisa Forest: Says HURIWA
Condemns Abduction Of 100 Girls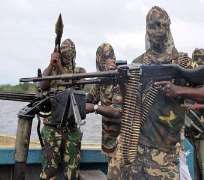 A prodemocracy group- HUMAN RIGHTS WRITERS ASSOCIATION OF NIGERIA (HURIWA) has tasked the Federal government to implement sustainable solution to the frequent attacks of schools in the border communities by suspected armed insurgents in North East.
Against the backdrop of the reported abduction by suspected terrorists of over 100 school girls in a secondary school in Chibok Local Government Area of Borno State, HURIWA asked government to locate permanent military training camps and barracks to house special forces of the Nigerian Military at the Sambisa Forest and other flashpoints proximately close to Nigeria's dangerous International Borders with Niger, Chad and Cameroon.
The rights group which appealed for the immediate unconditional release of the vulnerable school girls kidnapped and held hostage by suspected armed insurgents, HURIWA also called for the establishment of special forces made up of segments of the Nigerian Security forces including Nigerian Immigration and Customs to permanently protect Nigeria's borders even as the Rights group called for the Creation of the office of special adviser on Homeland security to the president to coordinate activities of the Special Border Areas Forces.
In a statement by the National Coordinator Comrade Emmanuel Onwubiko and the National Media Affairs director- Miss Zainab Yusuf, HURIWA also called for greater funding and transparent running of the Border Areas Development Commission under the presidency as a way of infusing the spirit of patriotism on indigenes of the various border communities and stop them from conspiring with invaders and armed infiltrators threatening Nigeria's territorial integrity.
HURIWA stated thus; "we call on the Federal Government and the North Eastern States OF Adamawa, Borno and Yobe States to put structures and mechanisms in place to safeguard the lives of students. We also suggest the Nigerian Army should set up permanent training camps in all the flashpoints already identified as notorious camps of the suspected insurgents in the border areas".
"Government owes the citizens of Nigeria the constitutional obligation to rescue these innocent girls allegedly kidnapped from their school by armed insurgents", HURIWA stressed.