On Terrorist Attacks: Borno Has Been Drawn Back 20 Years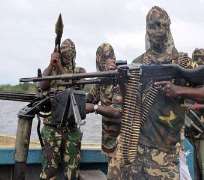 The Minister of State Power, Hon. Mohammed Wakil has said that Borno his home state has been drawn more than 20 years in civilization as a result of the activities of the Boko Haram insurgency.
Speaking to the press on his impression over Borno State as he see it after his visit , the minister said,"the Borno which I know as the home of peace has now become a battle zone and I feel pained".
"I visited the hospitals and all security outfits and I nearly brokedown when I saw some of the victims of attacks. This place has been turned into something else it is worse than Afganistan" he said.
"Iam however happy with the assuarance which the GOC of 7 Div has given that that the issue of Boko Haram will be over soon" adding that NEMA has alsoshown that they are in possession of enough relief materials to cater for all victims of insurgency in the state" he said.
Hon. Mohammed Wakil praised the people of Borno for their resilience and urged them to conitue to pray for Devine intervention so that the situation could be brought under control soon.