Boko Haram Abducts Female Students In Chibok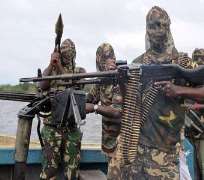 Members of the Boko Haram have attacked female students sitting for their WAEC examinations in Chibok town of Borno State and abducted many while many others ran into the bush less than 24 hours after the sect planted bombs in Abuja outskirts which resulted in the death of more than 70 people.
The attack which started at about 9 pm lasted for more than five hours. A soldier was killed in the attack while many residential houses and food stalls were looted and later set ablaze.
A resident of Chibok, Baba Gambo told our correspondent on phone that this is the fourth time Chibok is coming under attack from the boko haram insurgents and the only time they have succeeded.
The school authorities have commenced searching for the students that ran into the bush so as to take them back into the school premises to see if they can continue with the WAEC examinations.
When the military and police were conducted for comments they said that they were still awaiting details from the Local government council.