Gov. Orji Lauds Abia State's Performance In The 2013 WASSCE Result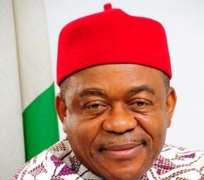 Abia State Governor, Chief Theodore Orji, has lauded the state's performance in the 2013 West African Senior School Certificate Examination, where the State emerged as the overall second best in the official result released by WASSCE.
The results released by WASSCE showed that 12 states in Nigeria recorded percentage that were above national average in the following order: Anambra State (67.85 per cent), Abia State (65.17 per cent), Rivers State (58.56 per cent), Lagos State (56.03), Cross River State (53.34 per cent), Bayelsa State (51.66 per cent), Enugu State (50.22 per cent), Delta State (46.49 per cent), Imo State (46.03per cent), Abuja (43.9 per cent), Ogun (39.92 per cent), and Kaduna (39.47 per cent).
In a statement by his Chief Press Secretary, Mr. Charles Ajunwa, Governor Orji who expressed happiness over this development, attributed the feat recorded in the 2013 WASSCE by Abia State to the new reforms introduced by government in the educational sector.
Apart from assuring on his government's continued support to the educational sector, Governor Orji said he would ensure that all Abians have access to qualitative and affordable education under a conducive learning environment.
The governor who declared that education remained the only key that would unleash development in all parts of the state, called on parents to enroll their children into primary and secondary schools as doing so according to him, will help to make them become useful to themselves having acquired knowledge.
"I am elated by the performance of Abia State in the official WASSCE results made available to the public recently. That we came overall second position after Anambra State, only goes to show that our decision to invest in the educational sector, was a step in a right direction. And I believe that we can do better than this. Since Abia State is number one in the country alphabetically, we must strive to maintain the first position in all endeavours.
"If you recall, during the presentation of the 2014 Appropriation Bill to the State House of Assembly titled, 'Budget of Legacy Consolidation', I said that education remained the only key to developing Abia State. To this end, this government is poised to stamping –out every trace of illiteracy in the state by ensuring continuous increased allocation of resources to the sector."