RIVERS GUBER ASPIRANT, HON. NIMI WALSON-JACK 'Cynosure of Sterling Credentials and Impeccable Character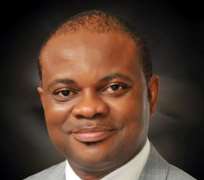 Honourable Nimi Walson-Jack is a lawyer; criminologist; civic educator, pro-democracy, human rights and civil society activist. Over the years, Nimi Walson-Jack has masterly combined legal practice with stints in the academia, public service, politics and civil society. He is a public policy contributor and analyst, an acclaimed publisher. He has written numerous articles and columns for newspapers and magazines. He was the General Secretary of the Nigerian Bar Association, from August 2004 to August 2006. He served as an Electoral Commissioner in the Rivers State Independent Electoral Commissioner from 27 November 2007 to November 2001.
Born on 14th November 1963 at Owerri, Imo State in Nigeria, Nimi grew up on the shores of Oguta Lake, Bakana in Degema Local Government Area, Elelenwa in Obio/Akpor LGA, and the rural grasslands of Bori-Ogoni in the Niger Delta Region of Southern Nigeria. A native of Abonnema in Rivers State, Nimi who is the third child among six children, accompanied his mother, Madam Caroline Walson-Jack popularly referred to as 'Adaiyi' and called Sister by both children and relations, around the State in her tour of duty as a Nursing Assistant.
A product of public schools education, after the civil war, he commenced his Primary education at Bakana, in the present day Degema Local Government Area where he lived with his uncle Pastor Eneba Walson-Jack who was a teacher. He later went to Bori, where he attended Khana County School, now State School I Bori in Khana Local government area. He spent brief moments at St. Andrew's School, Sangana Street, Mile 1, Diobu and St. Mark's State School Elelenwon. It was in St. Mark's he learnt that passing an exam did not depend on your position in class but the scores made. In the terminal exam he came 4th with a score of 48 and was classified as failed. That was the first and last time he failed. He would later return to Bori where he completed his Primary School education and passed with credit at the First School Leaving Certificate examination.
He got admitted into Federal Government College, Ikot Ekpene, in 1974, the second batch of the institution without sitting for the National Common Entrance but was drafted in based on the high scores he made at the State Common Entrance.
At Ikot Ekpene, he recalled that he had good teachers, who were well motivated to teach and that there was also motivation for learning. Teachers had proper accommodation and cars. The school had games facilities. According to him, at the time, disco was on the curriculum and compulsory. It was at Ikot Ekpene he taught himself Badminton and won a bronze medal at one of the editions of the Cross River State Festival.
Like all students he had his moments of truancy. He used to jump the fence to go and watch football at the stadium in Calabar. He was in Dramatic Society, Literary and Debating and often featured in the Schools Literary and Debating Club where he was the toast of many girls at the Federal Government Girls' College, Calabar. As the head of the Press Club he was responsible for the Press Notice Board, in which he had absolute freedom to publish news about happenings in the school, it was in this capacity he imbibed the value of speaking and writing the truth at all times. His love for chicken dates back to his days at Ikot Ekpene where it was served as a meal as of right. At Ikot Ekpene he had the opportunity to build relationships with friends from across the country and religious affiliations through which he learnt a lot about cultures and the diversity and wealth of the Nigerian Nation. In 1979, he graduated with Distinction and passed the West
African School Certificate Examination, passed the JAMB Exam and secured admission to study Law into University of Ife, Ile Ife, then Oyo State, now Osun State.
Incidentally, he was here again, a part of the 2nd batch of candidates to take the JAMB Exam and recalled that preparation for the exam started on the Monday after the first batch took the exam, a year ahead of the exam proper.
He applied to study Law and Drama into the University of Ife and Lagos respectively but could not secure admission into University of Lagos due to the minimum age requirement at the time which he didn't meet. To be able to attend the University of Ife, his mother had to pledge her wrappers to borrow N300 to pay his fees and provide for meal tickets.
In Ife, he had friends from Rivers State like Owhonda Okechukwu, Chizi Leslie Michael, Enyinna Nwauche who were his class mates. In addition to the 3 meals, he recalled that he was cooking 3 other meals and ate 6 times daily.
During long vacations, Nimi and his friends were involved in community service by way of teaching Secondary Schools students subjects in which they had no teachers or for which they needed to prepare in advance for their school work and exams; efforts that eventually helped to improve their performances in their academic work.
While at the University, Nimi was a students' union activist who championed the shaping and implementation of policies beneficial to the students as a member of the Students Representative Council, President of the Law Students Association and Member of the National Association of Nigerian Students (NANS). My friends and I took interest in recruiting and sponsoring male and female students activists who had the leadership potentials into student union offices. In the University, we had a working with human rights activists like Femi Falana, now a Senior Advocate of Nigeria. He graduated with a Bachelor of Laws degree, 2nd Class Honours, Upper Division.
Nimi would not have gone for Law School without the help of Mr. Nimi Jim-Jack, an uncle he got to discover by random search of the telephone directory of all Jacks in the Lagos area. After several calls and even speaking with a foreigner, he got to call Mr. Nimi Jim Jack who turned out to be a relative of his. It was Mr. Nimi Jim-Jack who then provided him with accommodation that afforded the young Nimi, the opportunity to attend Law School. During his Law School days he was instrumental to organizing what has now metamorphosed into a permanent Students Representative body at the Nigerian Law School. This arose from the burial of Late Nabo Graham Douglas, the then Chairman of the Council of Legal Education. Hitherto there was no forum to enable the students participate in the burial. So it was an opportunity to get the students organized and effectively showed representation at the funeral.
He was called to the Nigerian Bar as a Barrister and Solicitor of the Supreme Court of Nigeria in August 1984. Upon graduation and on the day he was called to the Bar, Nimi resolved that he was never going to tell a lie and he was not going to die poor. 29 years after this resolve, his life is a marked reflection of a man of sound character.
Nimi Walson-Jack began his legal service career with the mandatory national service at the Ministry of Justice, Uyo in the then Cross River State. As a Youth Corper, Nimi who was already engaged in public legal education and service through which he also did some pro bono cases, felt he could use his legal training to encourage citizens and businesses in Uyo to pay their taxes. After one year of outstanding service he was honoured as the Best Corps Member in Cross River State, and was also awarded the President's/NYSC National Honours Award for outstanding and meritorious service to the country. It is on record that he is the first lawyer to win this award.
On completion of the national service, Nimi established solo legal practice in Bori, the heartland of the Ogonis and in Sagbama in present day Bayelsa State. His law firm was the first to be established in these areas. He used this remarkable platform to play a historic role. He ensured easy access to the courts, and most importantly justice for the people. To acquire the requisite tutelage, he was affiliated to the law firm of G. A. Graham-Douglas SAN & Co on Potts Johnson Street, Port Harcourt.
The success of the young Walson-Jack in his rural legal practice was so inspiring that the National leadership of the Nigerian Bar Association invited him to share his experiences with other lawyers at the NBA National Law Week in Lagos; a privilege for the then young lawyer.
In those days, Nimi recalled that there was 12 hours of electricity supply daily and chlorinated pipe-borne water supplied by the Rivers State Utilities Board at Bori. The warmth and friendliness of the people was matchless. Tribe and tongue didn't matter at the time. People from other parts of Rivers State and Nigeria went to attend Birabi Memorial Grammar School (BMGS), Bori, Marian High School, Bane, and St. Pius College (SPC), Bodo. He also devoted time to contribute to public legal education, in addition to providing legal aid services to the indigent under the legal aid scheme of the Legal Aid Council, which was also extended to Ikot Abasi, Akwa Ibom State.
Nimi Walson-Jack returned to the Obafemi Awolowo University (formerly University of Ife) to study for a Master's degree in Law in 1987. There he was appointed a Junior Trainee Fellow, and an Editor of the famed University of Ife Law Report.
In 1988 when Nigeria decided to write a new Constitution, he was appointed by the Federal Government of Gen. Ibrahim Badamosi Babangida to represent youth and students interest in the Constituent Assembly. His track record obviously spoke for him. In the constituent assembly, he was the youngest member as he was barely 25 years old at the time and shot to instant limelight when he was beamed across national television as the spokesman of the South-South Caucus. It was in the course of this service that he met a lady introduced to him by his cousin Ine Jacks (now Mrs. Nnadi). An elegant lady he fell in love with at first sight who at the time was Didi Otobo, the 8th of 14 daughters and 3 Sons of the traditional ruler of Tombia in Ekpetiama clan, Bayelsa State, who is now Dame Didi Walson-Jack, mni, his wife of over 24 years.
They were married after a very short courtship at the St. Cyprians Anglican Church, Port Harcourt on 6th May 1989 at a colourful but modest wedding ceremony. The marriage is blessed with 2 biological children and tens of godchildren across Nigeria. The first daughter, Sotonye Didi Walson-Jack is a Cardiff University Law graduate, a Master degree holder of International Commercial law from the same university. She is currently pursuing her passion at the International Fashion Academy, France, where she is studying for an MBA in Fashion Business. Their son, Nimisoere Junior Walson-Jack is in his final year of a Bachelor degree in Laws and Politics at the Cardiff University.
At the conclusion of the assembly, he served as Special Assistant to Alabo Tonye Graham-Douglas, the then Minister of Social Development, Youth & Sports, and later Minister of Aviation. In this capacity, he was a member of numerous federal government delegations including that to the Supreme Council of Sports in Africa meeting in Mauritius. While at the Ministry of Aviation, he attended courses in Aviation Law and Management and obtained a Certificate in Aviation Law and Management from the International Aviation Management and Training Institute held at Bali in Indonesia.
He later resigned to take advantage of a commonwealth and foreign office scholarship for a Master's degree in Criminology, Criminal Justice and Police Work at the University of Wales, now Cardiff University, Wales, United Kingdom. His first daughter Sotonye was born there. Upon graduation, he got employed as a Law Officer, in the South Glamorgan County Council, Cardiff in Wales; a job from which he resigned to join the Ada George/Odili administration that had just won the governorship election.
In the Ada George government, he was appointed Special Assistant to Deputy Governor Dr. Peter Odili, an office he shared with Chibuike Rotimi Amaechi, now Governor of Rivers State. Walson-Jack was later to become the State Legal Adviser of the National Republican Convention (NRC). While in service, he was the Director Presidential Nomination Conference of the National Republican Convention (NRC). He later served as Secretary Local Organising Committee, Rivers State Sub-Seat for FIFA Junior World Cup (Nigeria '95), which was truncated by the coup of 1993. Following the military coup d'etat by the late Gen. Sani Abacha in 1993, which brought an end to the civil rule, he joined the human rights and anti-military movement, which successfully saw to the exit of the military from politics and return to democracy in Nigeria.
In course of the struggle in 1996, he was chosen by the American Government to participate in the Young African Leadership Programme in the United States of America. The programme exposed him to the workings of a democratic society, shaped his worldview and prepared him for civil society development work. The Centre for Responsive Politics, a non-governmental organisation (NGO), was established by him as a result of his American experience. On the platform of this NGO, the citizenry was sensitized, mobilized and educated for democratic governance.
Speaking about the works of Walson-Jack, Robert R. La Gamma, Executive Director, Council for a Community of Democracies in the USA, said:
' there are as many forms of democracies as there are democratic countries. Those forms take into accounts a country's culture, history and traditions. They are coloured by non-formal institutions such as that of Nimi Walson-Jack in Nigeria. What has impressed me most about my own experience in Nigeria was the incredible profusion of Nigerian non-governmental organizations that pressure on a series of military governments to cede power to civilians through elections.' (Pocantico, New York, June 29, 2000).
Since Nigeria's return to civil democratic rule, Hon. Walson-Jack has been actively involved in legal practice and programmes geared towards the sustenance of democracy in the country. In Nigeria's current democratic exercise, Hon. Walson-Jack was an influential member of the Transition Monitoring Group, a coalition of over 170 civil society and human rights groups committed to civic education, democratic norms and election monitoring. He coordinated elections observation activities in the six states of the Niger Delta area of Nigeria. He is also the Vice President of Civitas International, a global consortium of civic educators and the Founder and Executive Director of Public Education Works Initiative (formerly Centre for Responsive Politics), a non-governmental organization.
As a lawyer, he is an active member of the Port Harcourt Branch of the Nigerian Bar Association. He best remembered for pioneering works as a member of the human rights committee in the hay days of military dictatorship and secretary of the Seminars/Publications committee. In 2004, Hon. Walson-Jack achieved a national feat by being the first non Lagos-based Lawyer to be elected General Secretary of the Nigerian Bar Association. It was to the credit of his administration, that the secretariat of the association was moved to Abuja, a campaign promise that was kept. He also served the Bar Association in other capacities; as a member Body of Benchers, General Council of the Bar and Board of Legal Aid Council.
Trained by the governments of the United Kingdom and the United States of America, he is a dynamic speaker with a wealth of knowledge about democratic development, deliberative democracy, public administration, organizational development and public law education. Walson-Jack's unique experience across these sectors gives him insight into emerging cross-cutting trends and developments. He is a recognizable face at many international conferences and programmes. He is involved as a trainer in facilitating teacher - training workshops on civic and public law education on the African continent.
Identified by a national magazine in 1988 as one of the 100 leaders of the next Republic to watch, Hon. Nimi Walson-Jack has continued to build up community work and leadership experience. He has been honoured by various organizations for services to the legal profession and humanity. In 1985, after one year of outstanding service he was honoured as the Best Corps Member in Cross River State, and was also awarded the President's/NYSC National Honours Award for outstanding and meritorious service to the country. It is on record that he is the first lawyer in the country to win this award. In 1994, he was awarded the Distinguished Alumnus Award of the Federal Government College, Ikot Ekpene, Old Students Association, Lagos Branch and in 1996 was appointed an Ambassador of Goodwill for the State of Arkansas, USA. The Nigeria Junior Chambers honoured him with The Outstanding Young Person of Nigeria Award in the same year. In December 2002, he was honoured
by the Center for Civic Education Calabasas, California, USA, with a leadership Award for Dedicated Service and Commitment to Education for Democracy in Nigeria.
If Nimi has any obsession, then it must be with, continuing legal education, public law related education and the emancipation of women. To fulfill his dream he published LAWFAIR, the first newsmagazine of the legal profession in Nigeria. He was also involved in the publication of the first-ever Directory of Lawyers in Nigeria. His interest in law publications extends to Law Review and Reporting. He was an active member of the Editorial Board of the Rivers State Law Review Committee, which produced six volumes of the Revised Edition of the Laws of Rivers State, Nigeria. He was also a member of the Rivers State Law Report Committee.
Since 1996, Nimi Walson-Jack has worked closely with the leadership and members of women groups to uplift the welfare of women and children in society. He has participated and contributed to policy issues and legislation aimed at dealing with the evils that subjugate and oppress women in Nigeria.
Nimi has literally traveled all over the world as he is regularly invited to training workshops, seminars and conferences; facilitate or conduct trainings, or speak before audiences around the world as a keynote presenter and expert panelist on a wide range of topics, including:
*The state of Nigeria'a democracy and strategies for development.
*Building citizen engagement through public deliberation.
*Strategies for engaging public officials and policymakers
Administration, Management, and Public Policy
Some of the countries he has visited include Indonesia, Singapore, Netherlands, United States of America, France, Italy, England, Wales, Northern Ireland, Switzerland, Germany, Canada, Brazil, Mexico, South Africa, Mozambique, Madagascar, Mauritius, Senegal, Mali, Ivory Coast, Republic of Benin, Togo, Ghana, India, Kenya, New Zealand, Portugal, Jordan, Egypt, Czech Republic, Lithuania, Latvia, Poland, and Dominican Republic.
Hon. Nimi Walson-Jack has published a book entitled Drug Trafficking and The Law in Nigeria.
Nimi Walson-Jack is a Lay Reader of the Anglican Communion and not surprisingly, his hobbies include singing hymns. He is also the Director of Civic and Political Education of the Niger Delta Diocese of the Anglican Communion. Nimi is a member of the Full Gospel Businessmen Fellowship International. He has served as a Director of Publicity of the Port Harcourt City Chapter and is currently the President of the Yenagoa Eminent Chapter.
For leisure, he enjoys playing games of Badminton, Table Tennis and watching soccer. In Bori, he was the chairman, Bori District Amateur Football Association.
He is happily married to Didi Walson-Jack, an alumnus of the National Institute of Policy and Strategic Studies (NIPSS), a former Solicitor General and Permanent Secretary of the Ministry of Justice, Bayelsa State. She is a Director in the Federal Civil Service, and currently on secondment to the Bayelsa State government where she is the Chief of Staff Bayelsa State Government House, Yenagoa. They have two children, Sotonye (Soso) and Nimi Jnr. Together they enjoy traveling, and playing scrabble and badminton.