The End Is In Sight For Ugandans And Ethiopians Suffering From Blindness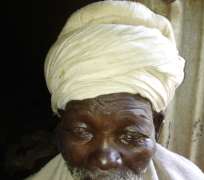 Groundbreaking new Al Jazeera documentary series, Lifelines: The Quest for Global Health, highlights the African and Asian health professionals saving their communities....
This week's episode filmed by award-winning South African team in Ethiopia and Uganda
The second documentary in a groundbreaking Al Jazeera series,Lifelines: The End Is In Sight profiles the extraordinary work of African health heroes as they tackle river blindness in Uganda and trachoma in Ethiopia. The End Is In Sight premieres in Ghana at 20h00 this Thursday, 17 April 2014.

The inspiring Ugandans saving their communities from river blindness
River blindness is a fly-borne parasitic infection, which can cause intense itching, eyesight damage, and often blindness. Lifelines: The End Is In Sight focuses on three health heroes overcoming river blindness in Uganda, where NGOs have now shifted their focus from controlling the disease to eliminating it entirely. Since 2007, river blindness has been interrupted in six of 18 focus areas where the disease was endemic.

Ephraim Tukesiga forces himself to get bitten by the flies that cause river blindness - all in the name of science. He then sets up a field laboratory to test whether the flies he has caught carry the parasite that causes the disease. Ephraim says that around 250 microfilaria or baby worms can be found in just four milligrams of skin. "So you can imagine the itching when someone says he has sleepless nights," he says.
Moses Katabarwa's studies led him to a revolutionary way of distributing medication that would improve the lives of many of his countrymen. His idea was simple: let people in small communities take control of distributing their own sight-saving medicine. This inspired approach has meant that in Uganda, river blindness is being eliminated one area at a time. His method is now being extended to other countries plagued by the disease.
"My first experience with river blindness was in western Uganda, where I found a community totally devastated by this disease. These guys couldn't do much for themselves and so that gave me a cause to fight for," Moses says. 'When it comes to the work I'm doing, I feel that I've touched many lives, touched people who have never been reached, and so that gives me the inner satisfaction. Emotionally I am at home; I am at peace."
David Oguttu is a parasitologist with the Ministry of Health in Uganda. He is a senior lab technician at a laboratory in Kampala, one of the first of its kind for river blindness research in Africa. Since the laboratory was set up in 2007, morbidity levels have decreased and all affected communities are being reached.
David is committed to eliminating the disease. "You can do nothing greater in the community than eliminating the diseases which are haunting them," he says.
Watch and embed a clip of Moses at http://www.youtube.com/watch?v=Xdpm7vWkZU0 or the promo at https://www.youtube.com/watch?v=7uRZ37ecD34.
For more information on river blindness, visit
http://www.aljazeera.com/programmes/lifelines/riverblindness.
The Ethiopians overcoming trachoma
Trachoma is the second leading cause of blindness in the world: six million people worldwide are blind from trachoma, 21 million are affected, and a further 320 million are at risk.
Amhara province in the Ethiopian highlands has the highest prevalence in the world. In the advanced stage of the disease, called trichiasis, a person's eyelashes turn inward, causing pain, scarring, diminished vision, and, eventually, blindness.
This is why 85-year-old Wolde is totally dependent on his daughter, Amalda. His wife is completely blind and Wolde has advanced trachoma. The problem is that Amalda does too. The only way to avoid going blind is for them to have corrective surgery at a free clinic 20 kilometres away, where Dasash Hasen, a 21-year-old nurse with just three weeks training, will operate on Wolde's eyes.
Watch and embed the promo at https://www.youtube.com/watch?v=kQHOaN4gp7o.
For more information on trachoma, visit http://www.aljazeera.com/programmes/lifelines/trachoma
ABOUT LIFELINES
Lifelines: The Quest for Global Health highlighs the work of inspiring Africans on the frontline of public health. The groundbreaking eight-part series is filmed up close as these health heroes forge dramatic breakthroughs while tackling nine of the worst diseases and conditions that afflict poor people: Guinea worm, leprosy, malaria, maternal and neonatal mortality, polio, rabies, river blindness, schistosomiasis (also known as bilharzia or snail fever), and trachoma.
Lifelines: The Quest for Global Health has a number of episodes set in Africa, where it shares both the hope and heartbreak from the grassroots fights against malaria in Tanzania, against schistomomiasis in Senegal, against maternal and neonatal mortality in Malawi, and against Guinea worm in Sudan and South Sudan.
For more information on the series, visit http://aje.me/lifelines or follow Lifelines on Facebook at www.facebook.com/AJlifelines or on Twitter at @AJlifelines using #healthheroes to be part of the discussion.