Human Rights Report: Corruption, Looting And Squandeminia; Jonathan Please Sack Diezani Maduekwe, Now, Now And Now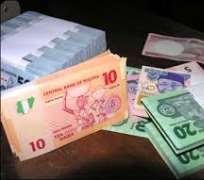 This woman maintain two (2) private jets to shuttle round the globe at her pleasure and time. In the first place, she squandered N1206 billion, while in the second she squandered E600,000. The first jet is called challenger 850, while the second is called Global Express (XRS). Read Punch, Wednesday, March 26, 2014 pages 1 and 2.
E600,000 per trip is the issue. NNPC is claiming that it has the right to charter and have private jet. The question is which right and who gave you that right? Do you justify corruption? Who gave you the right in the first place? What is the equivalence of E600,000 per trip in Nigeria's currency (naira)?
What justification has this woman to burn this colossal sum. Look at what NNPC is busy defending? How can Nigeria move forward with this class of people? What was the sin of former Aviation Minister, Stella Oduah? Yet, the whole world of Nigerians, especially the Yoruba Press, called for her jugular and she was sacked. Yet, Stella's was a drop in the bucket compared with Diezanni's.
If Goodluck Jonathan cannot discipline this woman by sacking her, then he has failed Nigerians 100%.
COMRADE KINDNESS INNOCENT JONAH:
AN ASTUTE HUMAN RIGHTS ACTIVIST THAT FIGHTS AND WINS INJUSTICE ANYWHERE FOUND IN THE GLOBE. HE IS ALSO IN FACE BOOK.
+234 - 803 - 6662 - 901 & +234 - 809 - 5957 - 698
LET US INTERACT ON BLOGSPOT: TYPE IN:
ROMKEEP BLOG
Disclaimer:

"The views/contents expressed in this article are the sole responsibility of

Kindness Innocent Jonah

and do not necessarily reflect those of The Nigerian Voice. The Nigerian Voice will not be responsible or liable for any inaccurate or incorrect statements contained in this article."
Articles by Kindness Innocent Jonah