Group Accuses Ekiti Nlc Boss Of Plot To Sabotage Gov't Projects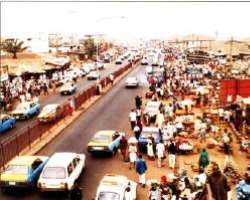 The Ekiti Patriots (TEP) has accused Chairman of the Nigerian Labour Congress (NLC) in Ekiti State, Comrade Joseph Arogundade of working with the opposition Action Congress (AC) to sabotage some of the projects being executed by the State Government, calling on security agencies in the State to beam their searchlights on the labour leader.
TEP, in a release signed by its National Coordinator, Mr. Kayode Adekunle, and made available to journalists in Ado Ekiti, on Sunday alleged that the NLC chairman intends to carry out the sinister plot under the pretence of inspecting the projects.
"We wish to alert the government of Ekiti State, security agencies and all the good people of the State on the plot by the Action Congress (AC) to sabotage some of the major projects of the State Government, using the State Chairman of Nigerian Labour Congress (NLC) as decoy.
"Projects being targeted are the 132/33 KVA, Omisanjana, Ado-Ekiti, Ikun Dairy Farm, Orin Farm Settlement, Orin Ekiti, University Teaching Hospital, Ado Ekiti among others. Cattles at Ikun Dairy Farm in particular are being targeted for mass destruction with a view to justifying their claim that the project has failed.
"This sinister plot was hatched at a meeting held in the farm of top member of the AC two Saturdays ago. The AC leader is now the arrowhead of the fresh plot to destabilise the state. It was at the meeting that the NLC chairman, Arogundade and others were assigned with the responsibility of sabotaging government projects and causing labour unrest in the State. A sum of N5 million was allegedly given to the labour leaders as mobilisation to prosecute the plot.
"It was an aftermath of the meeting that the State Government was giving 14-day ultimatum by the Nigerian Labour Congress (NLC) and TUC over the payment of September and October, 2009 salary. Unfortunately for them, September salary was already paid as at the time they were issuing the ultimatum, thus exposing their mischief.
"It should also be noted that Arogundade was on Tuesday, October 27, 2009 found at the project site of the 132/33 KVA in Omisanjana, Ado-Ekiti and when asked what his mission was, he claimed that he was on inspection of the project.
"Arogundade was virtually fighting everybody that he met at the site, when they challenged his authority to inspect government project, being a government employee himself. He claimed that he had the mandate of the workers to be inspecting government projects.
"The question we wish to ask the NLC chairman is; when has it become his duty to inspect government project? The reality is that he and his sponsor are up to something sinister. The State Government and security agencies in the State must therefore be watchful so that agents of destruction do not set the State back in their desperate bid for power."
|
Article source