Justina Mutale Is Africa Goodwill Ambassador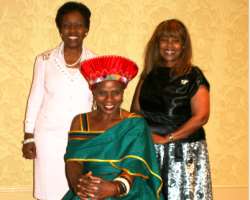 LOS ANGELES, California: Justina Mutale, African Woman of the Year 2012 is to be honoured as Africa Goodwill Ambassador during the 2014 African Goodwill Awards ceremony on Saturday 12th April 2014 at the Radisson Hotel, LAX in Los Angeles, California.

The African Goodwill Awards is an annual award ceremony organised and hosted by African Focus Inc, an American non-profit organization, whose core objectives revolve around the crisis in Africa with a mission to promote Intercultural Exchange, Education and Economic Development of Africa. The Award ceremony highlights the accomplishments as well as challenges facing African Diaspora humanitarian organizations, individuals, and groups that are working in a difficult environment in their mission to provide hope to the African Poor.
"Through the Africa Goodwill Awards, we aim to deliver a strong message of hope that touches hearts, lifts spirits, and inspires the African Diaspora community and the general public to participate in efforts to help the African poor", says Mr. Uchenna Nworgu, CEO of Africa Focus Inc. and organizer of the Africa Goodwill Awards.
Ms Mutale is the Founder/CEO of POSITIVE RUNWAY: Global Catwalk to Stop the Spread, an international social development organisation registered with the United Nations Department for Social and Economic Affairs (UNDESA) Civil Society Database. POSITIVE RUNWAY also boasts membership of various international and global organisations including the People's Global Action on Migration, Development and Human Rights; The Bond Network, which represents the largest household names in the UK International Development Sector, who influence key decision-makers at national, European and global levels; and the ENOUGH FOOD FOR EVERYONE IF Campaign, a coalition of leading UK development organisations working to end world hunger. POSITIVE RUNWAY runs a worldwide HIV/AIDS response, which spans 6 continents across the globe to bridge the gap in the global efforts to stop the spread of HIV/AIDS by speaking the same language as the 21st century generation.
Previous recipients of the African Goodwill Award include Ziggy Marley, the son of legendary reggae artists Bob Marley. Other recipients of the 2014 Awards include Barbara Morrison, an African-American Soul and Jazz Singer; Dawn Sutherland, Vice President of Southern California/Las Vegas Operations of the United States Client Operations division at Xerox Corporation; Mohammad Yahaya, a visionary leader and pathfinder boasting multi-million dollar capital projects in construction; Barbara Goldberg, Founder of Salon Forum and Responsive Research Inc; Dr Joseph A. Bailey II, Medical Doctor, Inventor of Orthopedic Appliances and Author of medical journals and text books; George C. Fraser, Chairman of FraserNet, a global network bringing together human resources to increase opportunities for people of African descent; and Lara Okunubi, Nigerian Banker and Entrepreneur.
"Each individual has been part of a cause of breaking barriers, providing emotional, moral and financial support to empower members of the African community to the betterment of their lives and that of their families", said Mr Nworgu
In addition to the Goodwill Awards, the ceremony unites Continental Africans and Africans in the Diaspora to create an opportunity for dialogue. The African Family Induction ceremony acts as a medium through which Africans separated by slavery can come together in solidarity and in celebration of a common heritage. Countries represented in this year's Family Induction Ceremony include Nigeria, Zambia, Senegal, Ghana, Cameroon and Uganda welcoming 29 African-American inductees. The reunited families will share in the rich culture of the host family through African fashion, music and dance.
Among the cultural highlights of the ceremony will be the blessings of two African Kings from Nigeria, His Royal Highness Igwe Sylvester Ozoekwem, Traditional Ruler of Umumba Ndiuno of Enugu State; and his Royal Highness Igwe Ezebuilo Ozobu OFR, Traditional Ruler of Umuagba Owa, Ezea-gu and Chief Judge Emeritus of Enugu State.
"It is a great honour and privileged to be recognised as Africa Goodwill Ambassador in the presence of such high profile personalities and African Royalty", says Justina Mutale