PHCCIMA ADVOCATES 'MONITORING AND EVALUATION' AS KEY TO ACHIEVING SUSTAINABLE PROJECTS/PROGRAMMES IN EGI COMMUNITY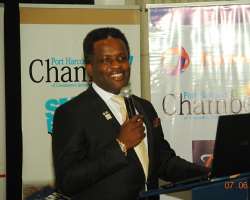 President of Port Harcourt Chamber of Commerce, Industry, Mines and Agriculture, PHCCIMA, Engr. Emeka Unachukwu has advocated the implementation of Monitoring and Evaluation as key to achieving the objectives on projects and programmes embarked upon by the Steering Committee of Egi Clan/Total Development Partnership Agreement.
Unachukwu made this call while making a presentation titled; 'Monitoring, Technical Supervision, Performance Indicators, Impact Evaluation and Quality Assurance For Community Programmes and Projects', held at a retreat for the Steering Committee at the Tokyu Grand hotel in Port Harcourt.
He stressed the need for multinational oil giant Total Exploration and Production Nigeria Limited and one of its strategic host communities in the OML58, Egi clan in ONELGA, Rivers state to ensure the implementation of M and E system as a way of assuring the people on the impact of community projects and programmes, and to ensure they are well articulated before commencement for quality assurance and sustainability.
The PHCCIMA helmsman said as partners in progress the steering committee should ensure that monitoring and evaluation forms major part of their policy to support their project/programmes in the community to attract high level of entrepreneurship, good quality skills base, industrial, agricultural and aqua cultural and structural growth in the area.
Defining Monitoring as the routine collection and analysis of information to track progress against set plans and check compliance to established standard, the PHCCIMA President noted that monitoring and evaluation contributes to organizational learning and knowledge sharing, upholds accountability and compliance, adding also that it provides opportunities for stakeholders feedback, guarantees long term positive impact that will justify money worth in investment made and finally promotes and celebrates work.
Unachukwu decried the state of some of the projects executed in the community under the Egi clan/Total development partnership agreement describing them as flawed. He called for a review that will engender projects and programmes with globally accepted standard, one that will identify core focus to ensure that the aims and objective for embarking on the projects are met.
Evaluation according to him is an assessment as systematic and objective as possible, of an ongoing or completed project, programme or policy. It is concerned with design, implementation and results which also involve identifying and reflecting upon the effects of what has been done and judging their worth, this he said the people should start employing in implementation of projects and programmes.
In his remark the President of Egi Peoples' Assembly, Chief Oris Onyiri faulted the state of projects and programmes in the community, harping on a new spirit that will see action in the right direction for implementation of projects/programmes in the community. Onyiri disclosed that time lost can never be regained, hence the need to build confidence and trust in the implementation of Egi Clan/Total Development Partnership Agreement with; clear thinking and clear objectives, realistic budgets and practical action steps.
Onyiri stressed that the steering community should make concerted effort by retracing their steps and rededicating themselves to the goals of Egi city vision.
The progamme according to one of the conveners, Chizor wisdom Dike was facilitated by Total to address seemingly insurmountable developmental issues, chart a new cause in developing, executing, managing and sustaining innovative projects and programmes that deliver value to Egi communities.
It will be recalled growing partnership between Total E and P and its Egi Host Communities was reinforced on Friday, 23-Nov-2007 with the signing of a landmark MoU Agreement between TEPNL and Egi Clan at the Sasun Hotel, Port Harcourt.
PHCCIMA President, Engr. Emeka Unachukwu during the presentation