Entrepreneurs Are At The Forefront Of Nigeria's Economic Growth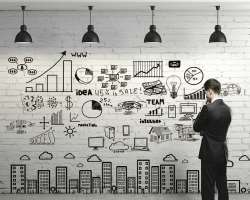 More and more businesses are realising the importance of nurturing innovative entrepreneurs among their employees to help drive growth, but what are the top strategies to promote innovation within the business? Latest research by Regus, the flexible workspace provider, reports that 35% of business people in Africa think flexible working is key.
Impressed with the rate of development among start-up entrepreneurs, coupled with recent statistics on technology development in Nigeria, the Minister of Industry, Trade and Investment, Olusegun Aganga, has said start-up entrepreneurs are at the forefront of the country's economic growth. Start-up entrepreneurs represent 50 per cent of Nigeria's Gross Domestic Products (GDP)."[1]
With the increasing importance placed on developing entrepreneurship within the business by companies such as Google and Dell[2], the survey asked respondents to identify which measures they regarded as key to nurturing so-called intrapreneurs and found almost half of African firms selected skills updating programmes (47%). Access to senior management (35%) and mixing staff from different functions (34%) followed.
These are the key findings of the latest research by Regus that canvassing the views of more than 19,000 senior business people and owners in 98 countries.
Some additional highlights are:
· 34% of respondents report open plan offices are a key innovation driver;
· 90% of respondents think entrepreneurship has increased in the past five years in their sector;
· 16% state that female entrepreneurship and 19% that repeat entrepreneurship is on the rise;
Commenting on the results, Thierry Vernet, Area Director for West & North Africa says: 'With small businesses accounting for over 90% of businesses and over three fifths of employment in most economies, it is evident why entrepreneurship should be fostered and nurtured.
'But businesses have cottoned on to the powerful innovative drive of entrepreneurs too and are looking to foster entrepreneurship among their own employees. So how can entrepreneurial behaviour be encouraged? Flexible working not only taps into employee demand for a better work:life balance ,by allowing them to work their own hours and from different locations, but it also helps employees mingle with workers from different functions, and even different firms, vastly widening their outlook and experience. Flexibility and diverse inputs can really help employees think outside the box and seek out innovation.'
Regus customer, Ubong Essien, a Nigerian entrepreneur who teaches effective communication skills and public speaking to corporate customers across Africa and internationally. When he's visiting new clients and training overseas, Mr Essien uses flexible workspace from Regus as his base. He says 'the Regus network gives me an international platform to do business,'. It takes the hassle out of finding suitable venues, and projects a professional image.'
He also urges African entrepreneurs not to shy away from trading internationally. 'Is there demand for your services overseas? Why not tap into that? The barriers to expanding into new markets are not as great as you might think.'
5871B493-AED0-4BB9-BA3C-C64D26C5A050[1]
E0C41DDD-3DEC-4ED1-AF70-54751D9CDFBF[1]
E73F65E9-1FB1-418F-B8EB-3EA6BDDE57E7[1]
ENTREPRENEUR AFRICA
INNOVATIVE ENTREPRENEURS