HOUSE APPROVES MARITIME SECURITY ESTABLISHMENT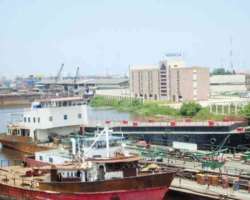 House approves maritime security establishment
By Ini Ekott
March 17, 2010 03:11AM
NIMASA says the body will duplicate their functions of regulating activities in the nation's coasts. Photo: NEXT
The House of Representatives is pushing ahead with the creation of a separate armed organisation to combat lawlessness in Nigeria's maritime sector, with the adoption of its committee's recommendations to establish the Maritime Security Agency (MASECA).
After a public hearing in January on the body, the House committee on Marine Transport urged the House to pass into to law a bill establishing the Agency which President Umaru Yar'Adua had forwarded as part of measures to deal with restiveness in the Niger Delta.
Mr. Yar'Adua intended that the Presidential Implementation Committee on Maritime Safety and Security which had been in existence since 2003, be transformed by the law into the new MASECA- an armed body with wider maritime powers.
During a public hearing on the bill in January the Nigerian Navy and the Nigerian Maritime Administration and Safety Agency (NIMASA), opposed the establishment of the body, saying it will duplicate their functions of regulating activities in the nation's coasts.
The Navy argued that the creation of such a body will retard the development of the force since the new body will be competing for 'scarce resources' from government. It said its constitutional policing functions will be breached by the body which, according to the Navy, would not have the capacity and training to function properly.
'The Agency would surpass the Nigerian Navy as the dominant force in Nigeria's maritime domain,' the force said in its presentation during the hearing in January.
'Simply put, the Maritime Security Agency would be a coast guard more powerful than the NN but without qualified personnel and assets in the first five years.'
'A mere fabrication'
The government, through Michael Aondoakaa, then Attorney General, responded that the bill represented a sincere effort of Mr. Yar'Adua to deal with the sector's challenge and not to undermine any other organisation.
Other officials have also argued for the establishment of the body.
'The allegation that the MASECA will be a military institution is just a mere fabrication,' said the Daniel Musa, the Secretary of the Presidential Implementation Committee on Maritime Safety and Security.
The committee said the new body will deal more with intelligence gathering and has already in its inventory, Radars, Unmanned Air Vehicles and Maritime Patrol Aircraft.
Lawmakers on Tuesday adopted most of the recommendations of the House committee headed by Ifeanyi Ugwuanyi which include a provision that the head of the organisation will report to the President, through the National Security Adviser.
The Agency, to be headquartered in Abuja, will be funded by the government and from additional maritime levies, and would have more security instruments that will enable it fight piracy more than the existing (NIMASA), the bill said.
With the adoption, the bill awaits a final passage and a concurrence from the Senate, before it is sent to the president for passage into law.