Shettima Faults Report Linking Military With Boko Haram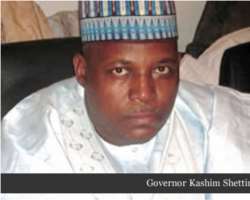 SAN FRANCISCO, April 07, (THEWILL) - The Borno State Governor, Alhaji Kashim Shettima, has faulted media report linking the military with Boko Haram,describing it as unfair, unhealthy and dangerous to the continued unity and well-being of the nation.
Maintaining that it stands logic in the head for a soldier to allege that some top military chiefs are backing the insurgents, the governor said in a statement issued on Monday that this will only undermine every effort being made to contain the insurgents.
According to Shettima, "Of all theories being alleged in connection with the Boko Haram, the most dangerous as far as I am concerned is to raise such grievous suspicion around our security forces.
"When citizens grow such suspicion and believe in it, I am afraid, Boko Haram can light fire works to celebrate a grand victory of setting up citizens against the security agencies.
"Since last week, I have listened and read these media reports with the hope that the issue will not be getting out of hand but it appears the matter is growing and I find it very disturbing.
"I do not want to bother about the credibility or otherwise of the soldier in question.
I am sure the security forces take this allegation seriously and they are investigating it as they should.
"I am not holding brief for the armed forces but as Governor of Borno State, whose area is unfortunately the worst hit, who has been closely working with security agencies, I would rather encourage confidence building between citizens and the armed forces so that intelligence sharing can rise continually and we don't loose focus in the counter insurgency.
" The governor noted that "The day citizens grow the suspicion of regarding security agencies as collaborators of insurgents whereas the security forces have the constitutional mandate of protecting citizens, then we will be drifting towards chaos as a Nation, we cannot afford that unhealthy development.
" He said "Unless it becomes unquestionably evident, we must work as individuals, groups and institutions to promote public trust in our armed forces so as to encourage cordiality between citizens and security agencies.
"We must recognise that at the moment, the security agencies are all we have got, we should preserve their integrity by at least giving them the benefit of doubt.
"As the one working with them in Borno since 2011, I know the number of military men, police men and women as well as para-military men and women, among them commanders in the military and senior police officers that sacrificed their lives in the fight against our unfortunate insurgency problems in Borno which also obtains in some parts of Nigeria.
" The governor stated further; "Insurgents will do everything to cause confusion, to manipulate us so that we do not trust each other as citizens and as establishments.
"Let's not fall into their trap, loose focus and become their mass victims.
"The military has in the past arrested, made public and court-marshaled soldiers found to be collaborating with insurgents, such patriotic efforts by the military establishments should be intensified by all security agencies.
"I must acknowledge and very well appreciate the important roles played by the media in the fight against insurgency.
The media should kindly and very importantly too, help in fighting any suspicion that can grow between citizens and armed forces.
"The armed forces rely on information from citizens, the citizens rely on the armed forces for protection, this therefore means, that suspicion between them will help no one but insurgents who would take advantage of such situation at the end to wreak more havoc on the already traumatised citizens.
"Let us continue to pray and work for peace using whatever platforms at our disposal so that we can happily live, freely worship, associate and move around all parts of Nigeria as we should in our fundamental rights.
"