UPU Position on Urhobo Governor in 2015 and the 24 Urhobo Kingdoms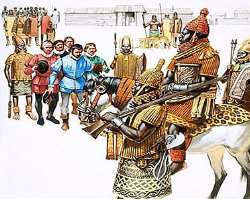 When on December 7, 2013, Urhobos elected the President-General of its oldest umbrella cultural organization called Urhobo Progress Union (UPU), there was great jubilation as the election was not marred with any irregularities. It was also a lesson for other groups and the country in general on how to conduct a hitch-free election. All twenty-four (24) kingdoms that make up the Urhobo nation, spread across eight (if not ten) Local Government Areas of Delta State, participated in a rancor free election.
In 2013, I penned an article titled UPU & Urhobo Collective Agenda ' before returning to America. What worried me was that the fifth largest ethnic in the giant of Africa - the Urhobo people of Delta State in the Western Niger-Delta Region, who number over 2.5 million spread across 24 kingdoms and covering over 5,000 kilometers - could not speak with one voice. No one can deny the fact that in Delta State, the Urhobo is the largest ethnic group, spanning over 10 of the 25 Local Government Areas (LGAs) and the entire Delta Central Senatorial District. In fact, Urhobos account for more than 2/5th of the 4.3 million Deltans, with Ughelli North being the largest LGA. Unarguably, the Urhobo nation is a major producer of petroleum and gas, two veritable resources that the world needs. At that time, I thought that the Urhobos should be a formidable ethnic group to be reckoned with both locally and internationally.'
Some have added that Urhobos are the 15th largest ethnic group in Africa and 51st largest ethnic group in the world. The point again is that Urhobos are numerically a group that Urhobos are not supposed to be ignored. Let me restate the history of the UPU as published in another of my article.
UPU is over 80 years. Historians state that Colonialism strapped Urhobo together and enabled them to have a corporal identity. Prof. Onigu Otite states that in 1925, a meeting was held at Okpara Waterside "by a group of Urhobos" as a result of maltreatment of Urhobos in Forcados, to discuss a common Urhobo response to events. This led to the formation of the Urhobo Progress Union which started in 1931 as Urhobo Brotherly Society in Warri. Some notable involved in the formation were Omorowhovo Okoro, Thomas Erukeme, and Mukoro Mowoe. The name of the society was changed to Urhobo Progressive Union in 1934 and finally to Urhobo Progress Union in 1936. One of the greatest accomplishments of U.P.U then was the raising of funds to train two graduates. Mr. M.G. Ejaife at Fourabay College, Freetown, Sierra Leone and Mr. E. N. Igho at the University of Cambridge, U.K. They both returned to run man Urhobo College founded in 1947 by the U.P.U. with Mr. Ejaife as the first Principal.
Professor Ikime in his biography of Chief Mukoro Mowoe states that 'The aim of the Union is to maintain good reputation and so earn for the Urhobo a better place in the public...... The Union seeks to promote education in Urhoboland because it strongly believes the immense advantage of education in social and economic structure of a society. It realises that unless the Urhobo tribe extending from Oghara and Jesse on the extreme North-East is unified under the central treasury and one Native Authority, the economic, social and educational aim of the Union will be greatly hindered: and for this reason it has in mind the unification of all Urhobo clans under one supreme council by the people."
Some oral traditions state that Urhobos were at some distant past among the people of Ife before migrating to Benin about the 6th Century, and subsequently migrated from Benin to create the present day Urhobo-land of 24 Clans (kingdoms) by the 11th century. Even some years back, there were only 22 kingdoms, but balkanization has led to 24 kingdoms are as follows:
| | | | |
| --- | --- | --- | --- |
| S/N | KINGDOM | HEADQUARTERS | LOCAL GOVERNMENT AREA |
| 1. | Agbarrha-Ame (Warri) | Otovwodo-Agbarha | Warri South |
| 2. | Agbarrha-Otor | Agbarha-Otor | Ughelli North |
| 3. | Agbarho | Orho-Agbarho | Ughelli North |
| 4. | Agbon | Isiokoro | Ethiope East |
| 5. | Aravwarien | Arhavwarien | Ughelli South |
| 6. | Effurun-otor | Effuruntor | Ughelli South |
| 7. | Evwreni | Evwreni | Ughelli North |
| 8.. | Ewu | Otorho-Eghwu | Ughelli South |
| 9. | Idjerhe (Jesse) | Idjerhe | Ethiope West |
| 10. | Mosogar | Mosogar | Ethiope West |
| 11. | Oghara | Ogharefe | Ethiope West |
| 12. | Ogor | Otogor | Ughelli North |
| 13. | Okparabe | Okparabe | Ughelli South |
| 14. | Okere-Urhobo | Okere | Warri South |
| 15. | Okpe | Orerekpo | Okpe & Sapele |
| 16. | Olomu | Otorere-Olomu | Ughelli South |
| 17. | Orogun | Orogun | Ughelli North |
| 18. | Oruarivie-Abraka | Otorho-Avwaraka | Ethiope East |
| 19. | Udu | Otor-Udu | Udu |
| 20. | Ughelli (Oghele) | Otovwodo | Ughelli North |
| 21. | Ughievwen | Ughievwen | Otughievwien |
| 22. | Umiagwa-Abraka | Umiagwa-Abraka | Ethiope East |
| 23. | Uvwie | Effurun | Uvwie |
| 24. | Ugwherun | Otughweru | Ughelli North |
Now that UPU rose from its stakeholders meeting two weeks ago and decided that Urhobo must produce the governor in 2015, many questions have risen including whether it is achievable and can all 24 kingdoms come together to deliver a particular candidate as they tried in 2011 with Chief great Ogboru of DPP. To produce the UPU President General, all the kingdoms voted. Each kingdom is entitled to twenty delegates, meaning there are approximately 480 delegates, plus other non-statutory delegates participated in the last UPU election. Will they use the same process to select an Urhobo governorship candidate?
Apparently, Peoples Democratic Party (PDP) and All Progressive Party (APC) are the two umbrellas (no pun intended) parties the Urhobos are being asked to gravitate towards and use.
A stated, Urhobos have eight (8) local government areas in the state. The demographics of Delta State show that the Urhobos must get votes from one of the other Senatorial Zones to achieve this new mandate based on Section 179 of the 1999 Constitution of the Federal Republic of Nigeria, which emphatically requires that 'A candidate for an election to the office of Governor of a State shall be deemed to have been duly elected where, there being two or more candidates - (a) he has the highest number of votes cast at the election; and (b) he has not less than one-quarter of all the votes cast in each of at least two-thirds of all the local government areas in the State.'
PDP primaries are less than six (6) months away and APC congresses are expected soon. What will happen if both PDP and APC do not give the 2015 gubernatorial ticket to an Urhobo? Will UOU have the force to compel Urhobos to move to another party that will produce an Urhobo candidate?
Only time will tell whether Urhobos will be able to repeat the following Urhobo chant from years ago after the Urhobos defeated Herbert Macaulay in court after he attempted to eject Urhobos resident in Lagos (Note: replace court/law with polls/vote to make the meaning relevant).
Urhobo ve Macaulay gu' edjo
Urhobo ri' ase (2ce)
Ajuwa e - e - e -
Urhobo ri' ase,
Ajuwa - e - e - e
Urhobo ri' ase.
Translated as:
Urhobo went to Court
With the Great Herbert Macaulay.
Urhobo worsted Macaulay in law;
Urhobo won in law!
Oh! What a glorious victory.
Urhobo won in law!
Oh! What a glorious victory.
Urhobo won in law!]
*Akpodiete is an author, Computer Scientist, Educator, Consultant, lawyer, Political Analyst & Social commentator. He has a Doctorate degree in Jurisprudence from the US. He has lectured Law, Ethics and Security & Intelligence Studies at the University level here in Nigeria and US. He also writes for a state daily newspaper & national monthly journal. He currently divides his time between Nigeria and USA where he runs an international capacity building firm. Contact him on 08138391661 or [email protected],
Disclaimer:

"The views/contents expressed in this article are the sole responsibility of the author(s) and do not necessarily reflect those of The Nigerian Voice. The Nigerian Voice will not be responsible or liable for any inaccurate or incorrect statements contained in this article."
Articles by Prof. Alex O. Atawa Akpodiete, Esq.