TENNIS CAMP MOVES TO ABUJA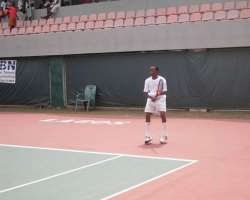 Tennis camp moves to Abuja
By Jide Alaka
March 17, 2010 01:10AM
The championship will serve off on March 29. Photo: NEXT
After two weeks of intensive training in Ado-Ekiti, the players that will represent Nigeria at the 2010 Africa Junior Tennis Championship (ACJ) will move base to Abuja today to begin the final phase of their preparations.
Speaking to NextSports from their Ado-Ekiti base, national junior coach, Mohammed Ubale, confirmed the movement:
'We are moving to Abuja today to get acquainted with the new courts. We have home advantage and we have to make it work for us. The players must feel at home on these courts before their opponents come in.'
Home advantage
By hosting the tournament, the Nigerian team should have more chances on qualifying for the World Championship with the 13 wild card slots that were granted the country, apart from the five players that qualified automatically. Ubale believes they have all in their kitty to perform well:
'Though I am not promising an outright win, I believe we have trained very well and the players are in very high spirits. We just hope they do not get jittery when the competition starts.'
The location of the two camping phases in Ado-Ekiti came as a surprise to many, 'We came to Ado because of the facilities that were available. They have four newly constructed courts and the State Government gave the Nigeria Tennis Federation (NTF) N2 million to prepare for the championship. I think that was enough incentive to come here.'
There were also fears that the 16 new courts being constructed for the championship would not be ready, but Ubale allayed all these fears. 'I am sure that by today almost all the courts will be playable. The courts are ready and there are no fears concerning the hosting. All we are praying for is that we do well.'
The championship will serve off on March 29, and the Nigerian team will be made up of 12 male and seven female players. Three players will be coming in from abroad to join the team: Umoru Balami from South Africa, Onyeka Mbonu from Holland, and a fresh face from London, Lolade Ogunbisan, who is fifteen years old. The categories in which they will be competing are: 18 and under, 16 and under, and 14 and under.
This will be the first assignment for the new secretary of the federation, Ikana Mbora.