PHCCIMA Pledges Support For Junior Chamber International (JCI)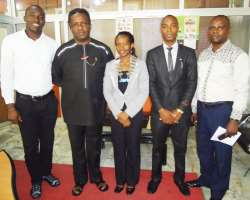 President of Port Harcourt Chamber of Commerce, Engr. Emeka Unachukwu has assured executives of the Junior Chamber International, (JCI) Trans Amadi chapter that PHCCIMA will henceforth support its activities by working closely with the organization to achieve its set objectives.
Unachukwu made this declaration when executives of JCI paid a courtesy call on him at the chamber office in Port Harcourt. He said he was impressed that a body of this nature committed to creating impact in their communities, developing skills, knowledge and understanding to make informed decisions and take action are in existence. However, he wondered why the body has chosen to work in isolation and take the back bench in terms of publicizing its activities to a greater percentage of the people.
He observed that the group has a robust objective that affects both the community and youths even as he advised them to make public their activities so that more youths and other stakeholders can get to know and buy into their various programmes.
Speaking about PHCCIMA, Unachukwu explained that one of the cardinal objectives of Port Harcourt chamber of commerce is to ensure that businesses thrive in the city where the chamber is established and beyond and assured the delegation that having taking the bold step to visit, PHCCIMA shall henceforth identify and support all their programmes especially in the area of community service, charity to the less privilege, among others geared towards sustaining and moving the society forward. He disclosed that PHCCIMA is also involved in charity as part of her corporate social responsibility.
In her remark the 2014 chapter President of JCI, Amb. Josephine A. Osigbeme expressed gratitude to the president for identifying with the body, she disclosed that the two bodies share similar objectives and the visit will hopefully open vistas of opportunity for JCI and PHCCIMA to jointly contribute their quota in moving and impacting on society.
On what the Junior Chamber International does, she noted that JCI is a body is a nonprofit organization of young active citizens, age 18 to 40 who are engaged and committed to creating impact in their communities, reminding the president that active citizens are individuals invested in the future of the world, hence JCI gathers active citizens from all sectors of society to render selfless service.
'We develop the skills, knowledge and understanding to make informed decisions and take action. As globally minded young people, we all have rights, responsibilities and share goals. We find targeted solutions to local issues benefitting our communities, our world and our future. Embracing new ideas, collaboration and diversity and we have the passion and courage to address the critical challenges of our time' she was quoted as saying, adding that with the listed framework, JCI members analyze local challenges, collaborate with community partners, conduct projects to find solutions and evaluate results to ensure sustainability and impact on the society.
She appealed for support in the area of mentorship and training of its members to position the body positively for the challenges of the 21st century.
2014-04-04 173706
2014-04-04 173738