Kogi Varsity Lecturer, Two Others : Drama In Court As Suspects , Witness Refuse To Mount Witness Box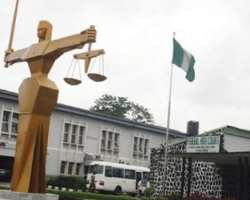 SAN FRANCISCO, April 03, (THEWILL) - There was a mild drama at the Federal High Court Abuja on Thursday as three suspects undergoing trial for alleged terrorism-related offences refused to mount the witness box for the hearing as expected.
Witnesses in the case also refused to mount the witness box for fear of their identity being released.
Presiding judge in the case, Justice Gabriel Kolawole , had earlier partially granted an application by the prosecution for a secret trial of the three suspected terrorists, including an Islamic scholar and a lecturer at the Kogi State University, Dr.
Muhammed Nazeef Yunus, Salami Abdullahi (a.
k.
a Asta) and Musa Umar.
He had declined the application for a secret trial, allowing witnesses to testify during the public trial but preferring to hide their identities by placing a cubicle by the witness box.
Justice Kolawole said that care must be taken not to expose witnesses to attack by any group or individual and create problem where the state cannot find witness to testify.
After the ruling, the judge directed that a shield, in the form of a cubicle was placed around the witness box, to prevent the audience in court from seeing the witness.
But on Thursday, despite the shield, the defence lawyers and the accused persons refused to mount the witness box.
The reason was simple.
The cubicle could not fully shield the witnesses from everyone thus scaring the witness, who declined the invitation by the prosecution led by N.
B.
Jones-Nebo to mount the witness box.
Jones-Nebo told the court that her witness has refused to come out because he was afraid that his identity was not fully shielded.
She said the witness demanded to be allowed to wear mask before he could testify.
The defence team, led by Hassan Liman (SAN), opposed the prosecution's request that the witness be allowed to wear mask on the ground that such provision was not contained in the judge's ruling.
He adjourned to May 6 for the commencement of trial.
When it became obvious that progress was impossible without the witness, the judge advised the prosecution to either appeal his ruling or apply for a variation of his decision.
The accused were arraigned last year on a eight-count charge bordering on alleged terrorism, offence punishable under section 17 of the Terrorism Prevention Act 2013 (as amended).


They were said to have conspired to commit terrorist acts.
They were also said to have found in their possessions two AK 47 rifles which they allegedly used in terrorising people in Kogi State.


They were also said have attended meeting conveyed by Boko Haram sect in Ayimgba,Kogi State and recruited other persons for training as members of Boko Haram sect.