Mr & Miss Black Beauty UK Scholarship Pageant 2014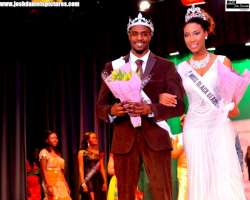 Tashian Shaw and Tameka Saul have taken the titles of Mr & Miss Black Beauty UK 2014 in a glittering pageant at the Walthamstow Town Hall, E17, London, UK.
It started with 19 contestants, but on the 28th March, the panel of judges narrowed it down to one handsome male and one beautiful lady has the lucky winners. After all the boys & girls from Africa and the Caribbean showed off, their best beauty, evening, and swimsuit but most of all their intelligence.
The pageant was well attended with over 500 attendees including various High Commissioners from Africa & the Caribbean, Africa Royalties, Celebrities AND Beauty Queens.
The night choreograph by award winner Reuben P Joseph was well detailed and structured.
Shaw and Saul both won a £5000 Educational Scholarship from Christ College London UK, money, photo-shoots and many more prizes.
The gorgeous 20 year-old Tameka Saul from Guyana certainly grabbed the judges and audience's attention with her magnetic, stunning looks throughout the night. She stole the show in a stunning dress during the evening wear segment of the contest.
Handsome 24 year-old Tashian Shaw from St. Kitts & Nevis was acting very confidently right from the beginning and this is something that the jury was looking for in presentation, as announced by the show hosts, and this is something that contributed greatly in him becoming the first winner of the Mr Black Beauty UK 2014 Pageant.
Devante Huntley from Chante Gonzalez both from Jamaica came in as first prince & princess and Victor Momoh from Nigeria and Aneeka Williams from Jamaica took second prince & princess.
The annual pageant was created to honour black beauty, to raise awareness for the minority cultural heritage, and Community significance, with a mission to bridge the gap of negative publicity by creating positive awareness through annually beauty contest to promote educational opportunities to outstanding and develop leadership among young black men & women in the UK.
Dr.Emmanuel Olanrewaju, the rector of the Christ Church London, he encourage the contestants to pursue education relentlessly and instated in them to love what they do, stay humble and let the light shine on others."
Other speakers HRH Princess Deun Adedoyin-Solarin and Pauline Long contributed to the night of encourage the contestants to continue in their stride walking in a positive light no matter how hard the circumstances that surrounds them.
Founder Alicia Martina Hixon, encourages each contestant to look to their home of birth but also look to their roots 'AFRICA' and be of assistance and don't let their opportunity to be a part of the fabric to bring change, be missed to assist anyone who's less fortunate that them. She closed the night with the pageant motto is closing 'A candle losses nothing by lighting another candle'.
The Mr & Miss Black Beauty are looking for Male and Female Mentors who can voluntarily devote 1HR per week to our 2014 contestants. Please get in contact by email: [email protected]
To see more photos of the night: https://www.facebook.com/MrandMissblackbeautyukpageant
1 AND 2ND RUNNER UP
AL
ANEEKA
DR EMMANUEL
GROUP PHOTO
PRINCESS
TASH
VICTOR
WINNERS 1
WINNERS AND RUNNERS UP
WINNERS