Chief Anabs Sara-Igbe Is Not Our Member, PDP Insists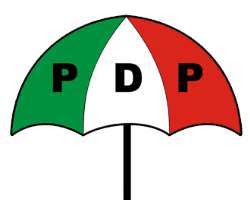 The Rivers State Chapter of the Peoples Democratic Party, PDP, reiterates its earlier position that Chief Anabs Sara-Igbe is not one of its members, as available records and documentations in its custody do not confirm his membership as averred by Chief Sara-Igbe.
The Party in a statement issued today, April 3, 2014, by Jerry Needam, Special Adviser on Media to the State Chairman, Bro Felix Obuah, challenges Chief Sara-Igbe to show proof of his purported membership registration in line with the provisions of Articles 8 and 10 of the PDP Constitution.
The PDP, reacting to comments by Chief Sara-Igbe in some sections of the media, claiming to be a member of the ruling Party, says it is not desperately shopping for, or in want of membership like the All Progressives Congress, APC, and would not lay claim to such persons, the like of Chief Sara-Igbe whose membership cannot be ascertained.
The PDP however notes that as a progressive, democratic, responsible and most popular and populous Party in Africa it will not shut its doors against any intending member or old members who are desirous to register with it or return to its fold, but emphasizes that such intention and process must be carried out in consonance with the provisions of the relevant sections, particularly, Articles 8 and 10 (a), (b) and (c) of the PDP Constitution.
The PDP therefore advises Chief Anabs Sara-Igbe to avail himself with the constitutional provisions of the Party and seek registration as a member, if he so desires to be part of the victorious Party, the PDP.
The Party also calls on all other intending and potential individuals who are in love with the Party and are willing to join to also take advantage of the provisions of its Constitution relating to membership registration.
Signed:


Jerry Needam
Special Adviser, on Media to
State PDP Chairman, Bro. Felix Obuah
Thursday, April 3, 2014