Madiba Inspired Tourist Centre Attracts Personalities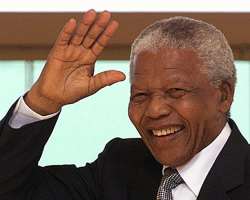 South Africa's Minister of Tourism, Marthinus Van Schalkwyk, has launched 'Madiba Inspired Tourist Attractions,' a travel map that encourages tourists from around the world to visit South Africa to walk in former President Nelson Mandela's footsteps.
According to the Minister, he said the essence was to make it as easy as possible for people to personally experience Mandela's story, which will help encapsulate the key points of his life's journey.
The Minister spoke at an event at the Drakenstein Correctional Centre (formerly Victor Verster Prison) in Cape Town, the last place that Nelson Mandela was held captive before he took his first steps to freedom on 11 February 1990.
Developed by South African Tourism in partnership with the Nelson Mandela Centre of memory, the map highlights tourists' sites as well as general places of interest in the four provinces that defined Mandela's life.