I Can Never Expose My Huge Hips—Sabina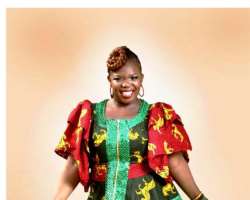 The name 'Sabina' may ring a bell in the general music industry in Nigeria, but for those in the gospel circle, that name is synonymous with a praise and worship singer. Sabina is also a popular broadcaster with Lagos-based Naija FM 102.5, located in Ikoyi.
The singer is loved by her fans, who listen to her on radio and in churches, where she is very popular. Seeing this busty and beautiful wife and mother do her thing on stage surely takes one to the realm of special worship with God.
Little wonder some churches prefer to have her perform in order to bring down the spirit of God in the midst.
In a chat with Nollywoodgists.com recently, Sabina disclosed that she can never be caught wearing a top that doesn't cover her hips because of her body size. "I can never wear a top that doesn't cover my hips," Sabina told us.
On how she combines music, marriage and broadcasting, she said it has been with the help of God. Sabina said that she cannot explain how she has been able to merge the three.