Curbing The Fulani Herdsmen Menace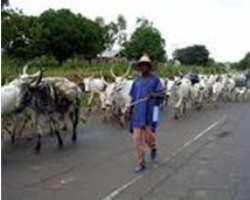 While growing up in then Midwestern Nigeria, it was uncommon to see a Mallam with a stick on his shoulder while leading a herd of cows. However, it became an increasingly common site as the 1980s drew to a close.
Today, if you are on the highways, bi-ways and even local roads inside town, you are bound to meet the scantily clad men, sometimes in their teens to early twenties following or being followed by some cows and bulls. Stereotypically, we assume that they are usually Fulani, or at very least Hausa and definitely Muslim.
There are very few communities that have not had issues with these roaming cattle rearers. From Jos to Maiduguri to Kaduna to Yenagoa to Umuekwunne Irete (Imo State) to Oghara, there seems to be a common theme to the problem. The herdsmen are raping women and attacking farmers, plundering villages. This is not minding the fact that the cows destroy crops in the farms of these helpless villagers.
Now the herdsmen are known be armed. Recently, the Fulani herdsmen not only attacked villagers in Oghara, Delta State but also killed a vigilante member when they tried to resolve a bad situation involving the villagers. Why can't the government do anything about these herdsmen? Now that they have been implicated in the attack on Benue Governor Dr. Suswan's convoy, will we wait for them to attack a political convoy again before doing something about it?
In these days of Boko Haram, these herdsmen make easy recruits for terrorists. Why are we not proactive in our security situations? Yes, the cattle are used for 'nama' meat and maybe will become exorbitant if these herdsmen are not around, but what price are we willing to pay for the safety of lives and properties? IS the sacrilegious violation of our women not enough to enrage government and security forces to action? What more is needed to galvanize our leaders?
The first solution is to ban all cattle rearers from the streets and villages. Civilized societies like America have cattle ranches. These are places where people interested in raising cattle do their business and people go there to buy and slaughter.
It is not only an eye sore, but extremely dangerous situation for these cows to be roaming around. They have also caused countless accidents on the road and have even been used for armed robbery. Last year, I almost had a fatal accident on the expressway in Koko when a runaway cow entered the road. Yes, God came to my rescue through my dexterity, but we do we have to pray to God for things that are easily solvable.
The impunity with which these Fulani herdsmen carry out their activity is very worrisome. In most of these communities, they are foreigners (non-indigenes), yet they behave with so much alacrity and temerity in foisting their calamity on the land owners and their gracious host communities.
The time has come to ban Fulani herdsmen from the streets and put them with their cattle in cattle rearing farms (ranches). This will curb the menace and incessant criminal attacks from them. Yes, we are cognizant of Section 41 (1)of the 1999 Constitution of the Federal Republic of Nigeria, which states in pertinent part that "Every citizen of Nigeria is entitled to move freely throughout Nigeria and to reside in any part thereof."
However, this will not be an abrogation or violation of it since Section 14(2) (b) of that same constitution states that "the security and welfare of the people shall be the primary purpose of government" and same Section 41(2)(a) is unequivocal in stating that "Nothing in subsection (1) of this section shall invalidate any law that is reasonably justifiable in a democratic society- (a) imposing restrictions on the residence or movement of any person who has committed or is reasonably suspected to have committed a criminal offence."
Cattle farming (breeding) for dairy milk or meat sales is a lucrative occupation similar to fish farming, pig farming, snail farming that has become popular in recent time. There are various publications online and in print to guide individuals and governments. See How to Start a Cattle Farm available at http://www.wikihow.com/Start-a-Cattle-Farm or How to Run a Cattle Ranch available at http://www.wikihow.com/Run-a-Cattle-Ranch.
This is the time for leadership with guts. We must put an end to the Fulani cattle herdsmen menace now.
*Akpodiete is an author, Computer Scientist, Educator, Consultant, lawyer, Political Analyst & Social commentator. He has a Doctorate degree in Jurisprudence from the US. He has lectured Law, Ethics and Security & Intelligence Studies at the University level here in Nigeria and US. He also writes for a state daily newspaper & national monthly journal. He currently divides his time between Nigeria and USA where he runs an international capacity building firm. Contact him on 08138391661 or [email protected]
Disclaimer:

"The views/contents expressed in this article are the sole responsibility of the author(s) and do not necessarily reflect those of The Nigerian Voice. The Nigerian Voice will not be responsible or liable for any inaccurate or incorrect statements contained in this article."
Articles by Prof. Alex O. Atawa Akpodiete, Esq.