JONATHAN'S MIDAS TOUCH IN THE REBUILDING OF FEDERAL ROADS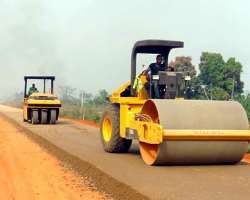 President Goodluck Jonathan's administration is one administration that has received bountiful doses of verbal attacks from the opposition.
Most of these attacks are located in the mere fact that our roads are death traps which have claimed many souls.
  From Abakiliki to Kano, from Sokoto to Lagos, the anger against bad roads in the country has been unanimous.
But for all those who relish in tagging the Jonathan's administration as non-performing, a loud response is evidenced in the engaging number of roads network completed by the administration in the last three years.
Johnson Atuluocha, an indigene of Enugu State based in Lagos State does not miss celebrating yuletide season in his home town.
  For some economic dislocations, he has skipped going home for the past three years but when he did in December 2013, he was lost in the massive road construction recorded in Onitsha, the commercial nerve centre of Anambra State.
When Atuluocha reached Onitsha head bridge, he mistook it for some of the roads in the Federal Capital Territory, Abuja.
  The bewildered Atuluocha asked the driver when they approached the head bridge 'where are we, is this Onitsha and when did this happen?" he asked the driver.
'It is one of the roads that federal government has constructed in Igbo land; that is why we tell you people to be regular at home so as to keep abreast of what is happening at home.
President Jonathan has done well.
For me o, if he comes out for election again I will vote for him, he has done well," the driver said.
His passenger concurred, adding that an 'average well-meaning Nigerian should put party affiliation aside and support this administration, and make sure that President Goodluck Jonathan is elected for a second term in the office so that he can continue with the good work he is doing in the country.
' At the last count, a total of 2,000 kilometres of road were built or rehabilitated as at the end of 2013; this figure represents the highest by any administration ever in this country.
  It is on record that the reconstruction of a majority of the roads was ignored by previous administrations.
For instance, Apapa-Oshodi Expressway, Benin-Ore-Shagamu Highway and Enugu-Port Harcourt dual carriage ways are being reconstructed, and work on these roads has reached 90 per cent completion.
The Kano-Maiduguri and Abuja-Abaji-Lokoja roads are progressively undergoing dualisation like the Oweto Bridge across River Benue which is nearing completion.
The Onitsha-Owerri and Vom-Manchok roads have been completed by the Jonathan administration and that has opened new economic vistas for those residing in the states where the roads pass through.
A resident of Owerri said that since the completion of the Onitsha-Owerri road, the economic activities of the area have peaked as farmers now easily transport their produce to the city with ease and at a minimal fare.
"Before now, travelling from Owerri to Onitsha was a nightmare.
Not only are you going to pay through your nose, you are also going to spend hours in a journey that is not supposed to last more than an hour.
To me, this is a practical and pragmatic dividend of democracy.
' Onitsha-Enugu and Lokoja-Benin road are being progressively reconstructed and expanded at an appreciable speed.
Ditto for Lagos-Ibadan Expressway which has been a death route for many for years before the administration of Jonathan decided by popular demand to fix the road.
Tayo Johnson and indigene of Ibadan said that 'this is the only administration that has not paid lip service to the reconstruction of the Lagos-Ibadan Expressway.
  If you go there you will see the massive works progressively going on there.
To me I think we should give this administration another term, if for nothing, to complete this particular road, since it is the only one that has shown seriousness on this road.
Any vote against the administration is a vote against good work honesty and dedication.
" For those fearing that the Niger Bridge will soon cave in because of the weight of usage, the assurance by President Jonathan has made good his promise to the traditional ruler of Onitsha, Igwe Alfred Anichebe, Agbogidi that the work on second Niger Bridge would be flagged off on March 10, this year.
  As of the time of writing this piece, the construction giant, Julius Berger, had already started to assemble their heavy equipment to kick start the construction of the second Niger Bridge to reduce pressure on the existing bridge.
The reconstruction of Mokwa-Bide Road, Akure-Ilesha Road, Sokoto- Tambuwal-Jega Road, Enugu-Abakiliki Road and Vandekiya-Obudu, among others, is progressively being done; even some have reached 90 per cent completion as you read this piece.
One interesting thing about these massive roads constructions by the Jonathan administration is that there are concerted efforts on the part of Federal Government to embark on a preventive road maintenance programme along all critical Federal roads nationwide.
  Also, there has been a recovery and sustained maintenance of over 60 per cent of Federal roads.
All these efforts by the administration in roads maintenance nationwide, according to Minister of Works, Architect Mike Onolememen, are geared towards increasing good and safe motorable length of Federal Roads from about 52 per cent (17,742km) to over 83 per cent (28,320km).
The administration of Jonathan is not only concerned about roads construction, it is also thinking ahead on how to make sure these roads are in good order for road users in years to come after construction.
Government has been vigorously engaged in the installation and commencement of Asphaltic Concrete production from two major 80TPH FERMA Asphalt plants in 2012.
  Not only that, the administration has started the introduction of the FERMA-SURE-P Public Works Programme that will engage and train over 6,000 Nigerian youths on road maintenance works, thereby creating a social safety net and road ownership attitude with abutting communities.
  If these are not the effects of Jonathan's touch of Midas, so what are they? Written By Constance Okechukwu
Disclaimer:

"The views/contents expressed in this article are the sole responsibility of the author(s) and do not necessarily reflect those of The Nigerian Voice. The Nigerian Voice will not be responsible or liable for any inaccurate or incorrect statements contained in this article."