Abia State Gov. Orji At The Commissioning Ceremony Of 6-Classroom Block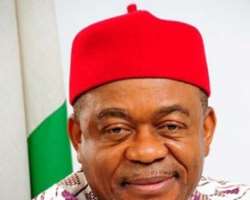 A SPEECH PRESENTED BY HIS EXCELLENCY, CHIEF T. A. ORJI (OCHENDO), GOVERNOR ABIA STATE, ON THE OCCASION OF THE COMMISSIONING OF A NEW CLASS-ROOM BLOCK, AND THE LAYING OF THE FOUNDATION STONE FOR A NEW BLOCK, AT HOLY ROSARY SECONDARY SCHOOL, UMUAHIA, HOLDING AT THE SCHOOL GROUND, ON THE 26TH DAY OF MARCH, 2014
DISTINGUISHED LADIES AND GENTLEMEN!

I am very pleased to be here today to commission this magnificent building and class-room block for Holy Rosary Secondary School, Umuahia built by the Catholic Church, and also lay the foundation for a new Hostel to be built by our State.
This is another eloquent testimony of our well-known tradition of legacy projects, and a realization of our Government's resolve to put back education at the center stage of our development and as a required infrastructure for the attainment of the new face of Abia.

/2
That is why we have not relented in our drive to restore, remodel and replace obsolete buildings in all our educational institutions, so as to achieve the quality structures and esthetic environment for the training of our young children as leaders of tomorrow. Our Government has been very conscious of the need to upgrade our physical structures, hence we have constructed over 200 class-room blocks spread across the three Senatorial zones of our State.
The importance of the projects we are commissioning, and laying a foundation for a new one, can better be understood from their historical perspectives. About 44 years ago and immediately after the Nigerian Civil War, the Governments of the Nation took over the management of all schools, including private and Missionary schools.
Despite the observed growing decay of infrastructures and discipline amongst students in many of these schools that were taken over, no Government in our State saw the wisdom to reverse the situation and bring back the Missions and private owners of acquired schools to repossess and manage them.
/3
But the Administration of Ochendo saw that need to reverse the situation, and in 2012, we commenced the return of Private and Missionary owned schools to their original owners. One of those schools that were handed over to its original Catholic Church owner is this school - Holy Rosary Secondary School, Umuahia.
This school before its acquisition by the Government was one of the famous institutions in our State, run with the efficiency and discipline of the of various Missions, and producing equally famous men and women in our society before 1970.
That was why, when I handed over this school back to the Catholic Church in 2012 and saw the deteriorating state of infrastructure and environment, I knew we had to assist restore the institution to its former glory. When I came to lay the foundation of this block of class-rooms we commission today, I asked the school what they would want me to do for them, and they replied 'check the erosion in the school and build a Hostel block for us'. I told them that I will do as they requested.
/4
We have commenced plans to check the menacing erosion in this school and restore the landscapes, and our Ministry of Environment will soon commence work here before the rains start. We are also here today to lay the foundation of the Hostel Block for this School. For me these are promises fulfilled!
We have chosen to go further to commence the building of an overhead bridge across the road for the safety of our young students who come to this school. We will still do more to assist the school in the future.
What we are doing here today, are all clear indications that our Government is a champion for the restoration of standards and quality of education in our State. We will remain as strong partners with all those that seek to advance the same cause. Even as we have handed over private and Mission schools to the owners for improved management, I assure you that our Government will not abandon our supportive responsibilities to all schools in our State.
/5
But our Government will on the other hand, require from Private and Missionary Schools, the upholding of the standards academic pursuits and discipline in our schools, so that your institutions can once more become the strong beacons of light that showed the way and led the pack of educators in the attainment of quality education, and the training of sound minds - men and women, that was the hallmark of our past institutions, especially Mission Schools.
It is with these nostalgic feelings and expectations that I feel proud to commission this new class-room block, and also lay the foundation for a new Hostel block, here at Holy Rosary Secondary School.
I commend the new Administration of this School for the budding signs of improvement and positive changes that we are already beginning to see in this institution, especially in the areas of Science, Arts and Information Technology. I also challenge the students here to rise up and excel as young champions of the digital age, so that you can once more be proud of your alma-mater.
/6
I am also confident that the foundation that our Administration is laying for the revival of educational standards in Abia State, especially in the restoration of structures and standards, will continue to challenge future Governments of this State to sustain the standards.
Let us all - government, Private and Mission Schools -rise up together, so as to put Abia State back as a center of educational excellence in our Nation!
That future is very bright!

Thank you.