Gov. Obiano Solicits FG's Support On Roads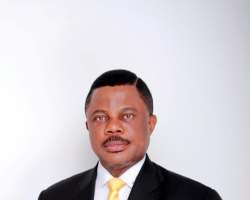 Gov. Willie Obiano of Anambra on Thursday in Abuja solicited the support of the Federal Ministry of Works on road construction and rehabilitation in the state.
Obiano made the call when he paid a courtesy call on the Minister, Mike Onolememen, in Abuja.
He said that the aim of the visit was to familiarise with the ministry and to thank the minster for the 'the good works he is doing in Anambra state''.
'I thank the ministry for the good work being done in Anambra and for the support given to my predecessor; I also solicit that the same be extended to me.
Obiano said that the state would continue to support Federal Government's activities in Anambra, adding that ' I look forward to working with you'.
Responding, Onolememen congratulated the governor on his election and assured him of the Federal Government's support.
Onolememen said that the high level of collaboration that had existed between the ministry and the governor's predecessor would be sustained.
' It is our hope that we will raise the stakes during your tenure because the Federal Government has quite a number of projects that are ongoing in Anambra state.
'There is no better way to guarantee the completion of those projects than a very good collaboration between the state and the Federal Government through the ministry.
'Your predecessor extended that positive collaboration to us.
'It is our hope and prayer that you will surpass him in that area so as to guarantee the semblance completion of all our ongoing projects in your state.''(NAN)