The Town Hall Meetings And The Imposition Strategy In Akwa Ibom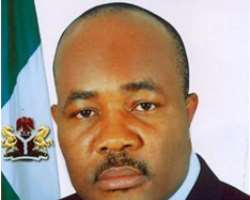 Needless political heat is being generated in Akwa Ibom by its strong man, Gov. Akpabio, for reasons many already know. Perhaps, I should first extend a right hand of fellowship to those who have finally muscled some courage and inner strength to stand up against Akpabio. To many, Akpabio's tenure has been, simply a nightmare for about seven years now. Some are still being trapped like a canoe caught in swirling eddy at sea. It appears many have awoken and are now gasping for breath of fresh air.
Early last year in one of my postings, I likened Gov. Akpabio to an elephant in the room. And that by the time he leaves the room, much damage would have been done. I was not far from the target with that analogy. To many this might have sounded like a doomsday prophesy. Looking at Akpabio's deeds since coming to power in May 2007, one does not have to be a psycho-analyst to extrapolate his misdeeds. It's been very apparent that we've had an elephant in the room. Unless the people are willing to grap the tiger by the tail or something meaningful is accomplished in the ongoing National Confab, we are likely to be faced with yet another elephant in the room after Akpabio.
Anyone that pays attention to my writeup would notice that no sooner did Akpabio become the Chairman of PDP Governors Forum than things started to unraffle at the national scene. As the palance would say, "Emen ubok ukpopbo nsung ekekpopbo okwok". Some governors were immediately branded Judases, some were seen to be so hungry that HRH Akpabio had to serve them from starvation. Each 'starving' governor was to receive one million naira (about $7,000) for lunch from HRH. Like members of 'The Association of Nigerian Beggars', the 'Judases' rebelled and cross-carpeted! With that, the war of attrition in PDP commenced in earnest! Yes, elephant in the room in deed!
The Town Hall Charade and the Imposition Strategy
I recall the introduction of the first town hall meeting at Ibom Hall in Uyo by IPC in July of 2006. There were, at least, four Commissioners from the previous administration and a number of Akwa Ibom delegates from the United States in the panel. Questions were freely asked by the curious citizens. I recall a lady asking about the IPP project which was yet to take off ground but so much money was reported to have already been expended. At the end, many left the hall satisfied. By this gathering, we were making an inroad in search of democracy.
Here in the country our residence, a law maker organizes town hall meetings at regular intervals to be able to interact with members of his constituency whom he is representing. Gathering like this is when the voters have opportunities to ask the law maker tough questions on all issues. And it is also opportunity to suggest and share their concerns. They'd let him know how he is faring as in representing them effectively. The lawmaker would leave the gathering gauging the purse of the electorates and would assess and reassess his position on major issues and make amend where necessary bearing in mind the next round of election or re-election.
Now is this what we are seeing in Akwa Ibom? There is this thing going on called Town Hall Meeting. Just a few days ago I saw a couple of individuals, Victor Unuyu and Bassey Uwe,professing to speak for Oro Solidarity Movement chastising one Hon. Enefiok Ekefre for daring to criticize Governor Akpabio on this town hall charade. My comment to the two is that Hon. Ekefre as Akwa Ibom citizen has every right to criticize or condemn what he believes to be a travesty embarked by the government that is of no benefit to the citizens. The fact that must be borne in mind is whatever Gov. Akpabio does or does not do affects the life of every indigene of the state; and Hon. Ekefre is one of such indigenes. On the converse, what Hon. Ekefre does or does not do, might not have such profound effects on every citizen of the state, certainly not on any part of Oro nation. It is quite interesting to notice that the duo suddenly found a voice to condemn Ekefre for exercising his rights as a citizen.
Somehow, I am wondering if the duo ever heard of the name Chief (Hon.) Effiong Ononokpono from Okobo, an Oro man? Did the duo care to know what crime Chief Ononokpono committed that led to his incarceration by Akpabio, an act which ultimately culminated in Chief Ononokpono's untimely death on Dec. 7, 2010? The Chief did not commit any crime. The question is, Why didn't the duo speak up and out on this bravado? Was Chief Ononokpono not Oro enough? There are endless catalogue of unsavory deeds committed by Gov. Akpabio and his government over the years. Effort for him to whitewash these atrocities and misdeeds with endless arranged-awards, radio and television adverts, wasting people's money to extol himself is fruitless at best. The town hall meeting is one of such wastes.
As in many previous events in Akwa Ibom, we're following closely these town hall charades. As Ekefre asked, assuming that these are real town hall meetings, why now? Everyone knows that Akpabio has barely a year to remain in office (if at all), why the continuous waste of the people resources? Most Akwa Ibomites are well aware that Akpabio is campaigning to legitimize his future rigging strategy or imposition of the candidates of his choice under the cover of town hall meetings. I want to believe that Akwa Ibomites are now wiser.
In one of the meetings held at Abak, it was reported that former DIG Ekpoudom in raising his concern said to the governor 'Some of your aides are causing a lot of problems . Some of them openly boast to the people that what God cannot do and money cannot do, Gun can do.' In his response, Akpabio reportedly told his commissioners, one after another, to stand up and when they did, he bemused and said '. these are some of my aides, do they look like people who can shoot guns?" This response was like Adolf Hitler asking the Jews, "Have you ever seen me with a gun (or a gas tank)?"
As for DIG Ekpoudom, I sympathize somewhat with him. I am sure he was in Akwa Ibom months leading to what was supposed to be a gubernatorial election in 2011. I believe he was not unaware of the spates of killing that turned the once peaceful state into a killing field. As a retired top security guru in Nigeria, Chief Ekpoudom said nothing then when the "Jews" were killed in Akwa Ibom because he was not a "Jew". Nonetheless, response he got from Akpabio was very typical and needless to say that it was just embarrassing, especially, as it came from a governor of a state. Having seen many governors in and outside Nigeria and having heard and seen many of Akpabio's utterances, I would dare say that in future, nobody with this level of intelligence should ever find himself in any elective position in Akwa Ibom, nay Nigeria.
My suggestion to DIG Ekpoudom is that from now henceforth, he should make the establishment of credible democracy in Akwa Ibom his pilot project. Someone like him deserves a greater respect, in fact, prostration by Akpabio. But as long as elders like him are the ones cheering Akpabio on, the outcome whether now or in the future will not be any different.
To Be Continued.....
Dr. Tom Mbeke-Ekanem, REA
Moderator
Author, Beyond the Execution -
Understanding the Ethnic and Military Politics in Nigeria
Los Angeles, California
Tel: (951) 640-0737
Email: [email protected]
Disclaimer:

"The views/contents expressed in this article are the sole responsibility of the author(s) and do not necessarily reflect those of The Nigerian Voice. The Nigerian Voice will not be responsible or liable for any inaccurate or incorrect statements contained in this article."