T.B. JOSHUA AND HIS CHARITABLE MINISTRY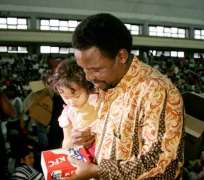 A stirring tale of glorious hope shining amidst the dark chasms of despair, of separation and shame transformed to unity and peace, of loneliness and homelessness replaced with life and love. Because God was involved...
"Someone out there is waiting for you for a lifetime," Joshua counselled the enthralled audience and viewers worldwide. "You cannot afford to fail them; failing them is failing God. Remember, God is speaking to you through them, saying: 'They are fatherless, so that you can be their father.' 'They are lonely, so that you can be their companion.' 'They are in want, so that you can be their benefactor.' "
General Overseer of The Synagogue, Church Of All Nations, Prophet Temitope Joshua has said persecution brought him tremendous blessing. He said as he was being hounded by a few individuals in the society, thousands, especially the less privileged across the world, were praying for his wellbeing. Joshua said during a special Sunday Service at the Headquarter of the church that many lives had been touched around the world through his ministry, who are also praying for increase of God's blessings on him.
He said the open display of his donations to the less privileged people in the society was to encourage his members to do likewise to the needy in their midst saying that his intention was not to show off or attract praise. He urged the congregation to make giving part of their lives, noting that givers would always receive breakthrough from God.

According to Prophet T. B. Joshua "What we are doing is not to show off, but to teach the people to do what we are doing by helping the poor in the society. Giving is part of my life. The only problem is that people don't give out what they cherish. It is when you don't have that you can give what your life depends on."
"You need prayers from orphans, widows, widowers, the fatherless and poor in the society. If widows and orphans pray for you, you will receive your breakthrough immediately. Life is all about giving and someone somewhere is in need of what you have. It could be your strength or your love – but in any direction you look, you will see those who are in need of your love," he said.
Prior to his (T.B. Joshua) good works of charity, the members of the church has been encouraged to be father to the fatherless, and friend to the lonely in the society. If the world we live in today can realise that also, the world will no longer encounter poverty and it will be a great place for all and also bridge the gap with the rich and the poor in the world.
Development / Ghana / Africa / Modernghana.com