NATIONAL UNITY SHOULD BE EVERY NIGERIAN BUSINESS - MADUMERE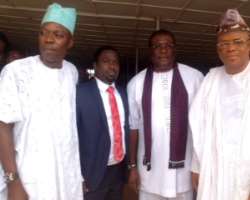 Imo Deputy Governor, Prince Eze Madumere, last Saturday, in Ondo State said Nigeria's unity cannot be compromised. He observed that the success of Nigerian project lies with the effort of the citizenry.
Speaking in Ondo town during a wedding reception of Mr. Eyitope Kuteyi of Channels Television and his heartthrob, Damy, he commended the groom for his professionalism and advisory roles to State government.
Consequently, Imo Deputy Governor submitted that it is the good nature of the groom has brought him to Ondo State and will always visit whenever he deems fit. He also told the people that Ondo born Journalist is an adopted son of Imo State.
Imo Deputy Governor averred that his boss, Governor Owelle Rochas Okorocha, as a detribalized Nigerian born an Igbo man, raised by the northerners and empowered by the south westerners. He also described Imo number one citizen as one of the few greatest patriotic Nigerians who will at all cost defend the unity and cohesion of Nigerian State.
He blamed the song of ethnicity and tribalism, which he described as the bane of Nigeria's development, on selfish desperate politicians who play up the strange phrases as a means to securing whatever electoral proceeds.
Asked on the way forward, Prince Madumere proposed a reorientation of our people praying leaders to talk less about the ethnicity while asking for abolishment of citizenship-indigeneship dichotomy.
Imo Deputy Governor, Prince Eze Madumere, whose entourage included the Commissioner for Petroleum and Environment, Prof. Okoro, thanked the good people of Ondo State and the State Commissioner for Information, Hon. Kayode Akinmade for their warm reception.
Imo Deputy Governor, Prince Eze Madumere, MFR, with the groom, Eyitope Kuteyi flanked by Ondo State Commissioner for Information on the left, Hon. Kayode Akinmade and Jossy Abiola, Publisher, Global Excellence at wedding reception of Eyitope Kuteyi of Channels TV and his wife in Ondo town.
Imo Deputy Governor, Prince Eze Madumere, MFR, with newly married couple, Mr and Mrs. Eyitope Kuteyi and wife during their wedding reception in Ondo town, Ondo State
UCHE ONWUCHEKWA
CHIEF PRESS SECRETARY TO
THE DEPUTY GOVERNOR
IMO STATE