LACK OF FEAR OF GOD, BANE OF NIGERIA'S DEVELOPMENT - MADUMERE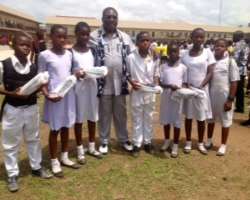 Imo Deputy Governor, Prince Eze Madumere has blamed Nigeria's woes on lack of fear of God among her leaders.
Speaking during the maiden All Knights and Ladies Convention with the theme, ' Ministry Opportunities Challenges for Christ Bearers in today's Nigeria' at the Cathedral Church of Transfiguration of our Lord, CATOL, Owerri, he said major challenges among today's leaders lie with what they intend to make of Nigeria.
He said the problem is man-made and tacitly hinged Nigeria's problem on self serving motifs of those in authority. He called for a legacy driven spirit that should bother about what becomes the children for the future generation.
He called on Christians at the position of authority to imbibe the character and teachings of Jesus Christ. He further said that it is the responsibility of Christians to place God first and pray for the holy spirits, which bears fruits that is not not selfish. "Nigeria needs God fearing leaders who must place God first in all their doing", he enthused.
However, driving home his point, he confirms the effort of the Rescue Mission Government led Owelle Rochas Okorocha, seeking God's inputs in their affairs. He averred that Imo Government believes that for good governance to triumph, God must be the focal point. Prince Madumere opined that giant strides of the administration is not unconnected with their total belief in God'spower intervention for Imo to be better.
He called on all Knights and Christ bearers to always put on the amour of performance whenever they are called to serve.
He submitted that it is the collective responsibilities of all to pray for a better Nigeria that will meet the aspirations of the present generation and future generations, which he said should be a major concern.