''Ekiti People Have Decided To Keep Fayemi'' – Rep Daramola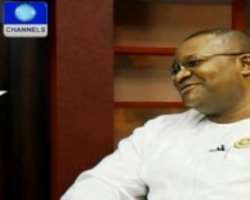 Astute member of the House of Representatives, Hon Bimbo Daramola, believes that the performance of Ekiti State Governor, Kayode Fayemi, guarantees his re-election in the coming polls in the state.
He gave this impression on Channel Television's breakfast programme, Sunrise on Saturday March 22, 2014, where he appeared alongside an Associate Professor of Political Science at the University of Lagos, Dr Derin Ologbenla, to discuss developments in Ekiti politics ahead of the June governorship election.
Daramola who doubles as Director-General JKF campaign organisation said that there were a number of things that have given Ekiti people hope and gives assurance that Fayemi would be fully supported by the people. He said that the question would be, 'Wouldn't you rather stick with a man that has come into governance with good track record?'
Speaking on the ambition of former Governor of the state, Ayo Fayose to contest for the seat again, Dr Ologbenla said that Fayose's chances were slim because of his antecedents during his first tenure which saw several crisis and killings in the state. He said that the Ekiti people were more educated to embrace his candidature.
He also dismissed the chances of Labour Party candidate and former member of defunct ACN, Opeyemi Bamidele; he said that he lacked the political structure to win the June governorship election in the state.
The Congressman representing Ekiti North Federal Constituency 1, Daramola, noted that the Ekiti election would mirror what Nigerians should expect in 2015. He said that the readiness of the Independent national Electoral Commision, INEC would be very pivotal to ensuring that the people of Ekiti are given the rights to choose the leader of their choice.
He went further to reveal the several issues already witnessed in the voters' registration process in the state, just after the INEC Chairman, Professor Attahiru Jega had promised all political parties in the state that the commission was ready for a smooth process.
Ologbenla, however, noted that he believed that INEC would not go into an election without being ready but the problem was how the political parties play their game. He stated that any attempt to rig elections in the state would be attacked by the people and he called for the deployment of substantial security resources to maintain sanity during the election.
Daramola concluded by saying that he had no doubt that the Ekiti people have decided to keep Fayemi as their Governor beyond 2015.