Gov. Orji At Abia State Easter Carnival Logo Unveiling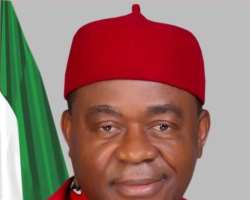 A SPEECH PRESENTED BY HIS EXCELLENCY, CHIEF T. A. ORJI (OCHENDO), GOVERNOR ABIA STATE, ON THE OCCASION OF THE 2014 ABIA STATE EASTER CARNIVAL/CANTATA LOGO, HOLDING AT THE ULTRA MORDERN SKILLS ACQUISITION CENTRE, UMUAHIA, ON THE 21ST DAY OF MARCH, 2014
​
DISTINGUISHED LADIES AND GENTLEMEN!

It is my pleasure to be here today to witness the unfolding of a unique event in Abia State, which is the unveiling of the 2014 Abia State Easter Carnival/Cantata Logo. It is never easy to conceive a monumental idea such as this - that will stand the test of time, and to quickly and boldly begin the process of putting it into practice with an enduring stamp and logo to announce the arrival.
Each time I think of the Easter Carnival/Cantata event that we are now venturing into, as signified by the unveiling of this logo, - two other significant events easily come to my mind, making me proud that we have pursued the right course and that history will certainly vindicate our services as Governor of Abia State.
/2
When we came to the governance of this State, we said that we will change the new face of Abia and build a sustainable foundation for the socio-economic and political foundation of our State. We indeed meant every word of that promise, and that is why we quickly focused on the two pillars of restoring the security of lives and property of citizens, especially against kidnapping. We equally focused on rescuing our State from the embrace of idol worshipping and vile oaths as a base for political office seeking and advancement in governance.
With these two pillars firmly in place, our Government has opened the doors of new opportunities and a wonderful new era for the voices of our people to be heard; for chances to pursue new prosperity, and the restoration of Abia State as truly God's Own State.
Abians now have reasons to dream new dreams and accomplish them in peace and security and without governance impunity. And that is why we can now join the wonderful victory chorus of redemption and atonement of Easter Carnival/Cantata today. The new face of Abia is certainly with us!
/3
As we unveil the 2014 Abia State Easter Carnival/Cantata Logo, we are beginning the institutionalization of a new culture of victory and happiness that will endure. This heralds a new dimension in the culture of Carnivals as we know it in the Nation.
Our Carnival/Cantata celebration will be more than brightly costumed people dancing in the streets; having merriment in a street party, and a drama-in-motion – which is the images we easily have of all other carnivals. Beyond all these, our Carnival/Cantata is going to be our new bedrock for expressing our culture and our re-discovered spirituality as a people under God's Own State, Abia.
Our new approach will adopt and integrate the tradition of Cantata singers to premier choral music, choristers and church orchestras – old and new – that reflect our history as Abians. These would offer wonderful and rare opportunities to hear the musical talents of Abians in both Christian gospels and traditional music that delight everyone, young and old, local and foreign.
/4
This special blend of traditional carnival and Cantata culture will serve as our added tonic to drive our expanding tourist economy and investment opportunities in Abia State, under our secured and peaceful environment.
I have equally been assured that beginning from the 2014 Easter Season, a consistent Abia State Easter Carnival/Cantata platform will be on the ground to provide a quality version of entertainment, education and promotion of the historical culture and creativity of our people. We expect to become the interests of both local and foreign tourists and investors, as we project our State as a peaceful and secured environment.
As an annual event, this project will not fail to deliver on its broad agenda, especially on the expansion of the benefits accruing from tourism and investments and the revenue that would be added to our IGR to reduce dependence on monthly Federal Accounts Allocation.
/5
I take this opportunity to thank Her Excellency, my dear wife for pioneering this wonderful initiative, and especially the passion she and her team have devoted to the realization of this project. I equally thank many of our citizens and organizations, who did not only share in the initiative, but have committed resources, -money, energy and other supports to ensure the take-off and realization of the project.
With the unveiling of the 2014 Abia State Easter Carnival/Cantata Logo today, I am very excited about our new idea, - and just like many Abians and the wider audience out there, we cannot wait for the event to commence!
Thank you for listening and God bless everyone!