Gov. Orji Condemns Attack On Senate President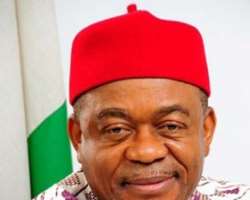 Abia Governor, chief Theodore Orji has roundly condemned the attack on the convoy of the senate president in Imo state on Friday, describing it as wicked and unfortunate.
Answering questions from newsmen over the incident in Umuahia, Governor Orji said he received the news of the attack with shock, adding that it was saddening that it happened in the South East.
The Governor said the armed attack was disturbing and will not be tolerated and called on security agencies to thoroughly investigate the matter with a view to bringing the culprits to book.
He asserted that the incident should be an eye opener of what is to happen between now and 2015 when election takes place and called on Nigerians especially the South East zone to be vigilant and do everything to enhance peace.
The Governor called on Nigerians to conduct themselves in a disciplined manner to ensure that the coming election is peacefully and freely conducted ,adding that cooperation should exist in the country.
He said that the senate president as the number three citizen of the country is free to go to anywhere he likes without molestation and wondered why anyone would attack him.
He ruled out the possibility that the attack is from the Boko Haram.