Gov. Orji Pledges Full Support For PDP In Abia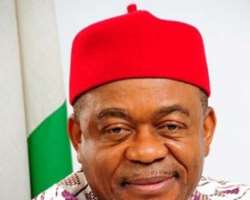 Abia Governor, chief Theodore Orji has assured that the Peoples Democratic Party (PDP) in the state will provide a level playing ground for the best candidates to emerge in the forthcoming elections.
He was speaking at a meeting he held with the party officials at various levels at the Michael Okpara Auditorium, Umuahia.
The Governor advised the PDP faithful to elect credible candidates based on their conscience and not on monetary inducements.
Chief Orji admonished them to maintain their unity and remain steadfast in the party, assuring that the party in the state will repeat its winning streak in the state in the next election.
The Abia state chief executive stressed the need for party discipline among members and implored the members to continue supporting his administration which he said has done well within the limits of its capacity.
He disclosed that his administration is making spirited effort to revive the Golden Guinea breweries before the end of his administration, assuring that his youth empowerment programme which aims at making every Abian a car owner will continue.
The Governor urged the PDP members to remain committed and described the meeting as the beginning of new things to happen in the state.
Chief Orji directed that the meeting should be held at least once a month to rob minds.
Earlier, the state chairman of the party, sen. Emma Nwaka said there was need for PDP members in the state to be ever ready and vigilant especially now that election was around the corner and advised the party officials at all levels to remain steadfast.
The National vice chairman of the party, South East zone, Col Austin Akobundu Rtd. Said he was confident in the members of the party to deliver and advised them not to allow enemies of the party to infiltrate them.
Some of the party members who spoke at the event including Kingsley Imaga, Mrs. Olileanya Nwoha and Chukwudi Nwakaodo commended the Governor for making the party in the state the envy of all and appealed to the Governor to carry them along in his programmes.