Obiano Reads Riot Act To Contractors, Consultants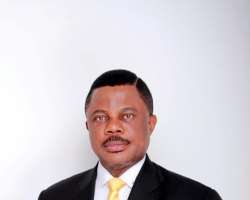 The governor of Anambra State, Chief Willie Obiano, Thursday showed signs of a strong leader when he threatened to penalize contractors and consultants handling government projects suspected to be doing a shoddy job.
Addressing a large group of local and foreign contractors and consultants in state, at the Conference Hall of Government House, Awka, Obiano threatened to terminate the job of any contractor found to be performing below expectation.
The Governor whose inauguration, Monday attracted an unprecedented crowd to Awka, the state capital also warned every contractor or consultant working for the state government to brace up for change and ensure the completion of all projects on the agreed terms and time.
He declared that his relationship with consultants would be based strictly on performance and not basis of business as usual.
"We will be checking the quality of your work and so long as you are doing your job as agreed, you won't have problems with us. For people doing designs for us, we want the best quality in terms of designs. "Obiano stressed.
He however assured the contractors and consultants that anyone who did a credible job and met their contractual obligations would be retained; pointing out that he expected every contractor working for Anambra State to show an appreciable level of commitment in the day to day execution of projects in the state.
Governor Obiano further stated that his administration would hold extensive discussions with all contractors and consultants to establish the minute details of each contract under execution in the state and ensure a strict compliance.
The governor also assured that his administration was ready to fulfil its contractual obligations as long as the contractors would deliver fully on all the terms of the contract.
The contractors and consultants who attended the briefing were drawn from the RCC, IDC and CCC construction companies, the Managing Director of Akiota Works LTD, which is handling the Ikenga Shopping Mall,Awka and Onitsha Shopping Complex, Pachuks Engineering Company LTD, New Ideas Construction Company ,Enplan Group Consultants and Nnoli and Associates LTD.
James Eze
Governor's Office
Awka, Anambra State