We Need More Nigerian Content Not Out-dated Soaps Operas……Frank Nweke Jnr.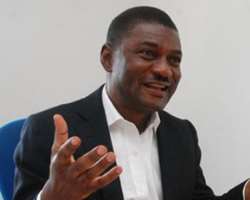 In a recent conference held in Lagos, stake holders in the various spheres of entertainment and corporate bodies; have charged the Nigerian media with the responsibility of developing the entertainment industry as they are seen as the watchdog of the society.
This position was taken at the maiden edition of Nigeria Entertainment conference held in Lagos, with the theme "Building the Industry of Our Dreams."
Delivering his speech, the Director General, Nigeria Economic Summit Group, Frank Nweke Junior, said the evolution of multi-dimensional media spheres had created opportunities to birth dynamic contents for local media channels.
Nweke said the independent producers and television stations should work together at producing the good indigenous content rather than paying exorbitant fees for independent producers.
He lashed out at some media houses that transmit aged Latin American soap operas for broadcast on national television, stating that it had killed the tradition of world class Nigerian drama.
"Nigerian entertainment industry must begin to engage in a different narrative, in order to harness the full potential and possibilities at present." Nweke said